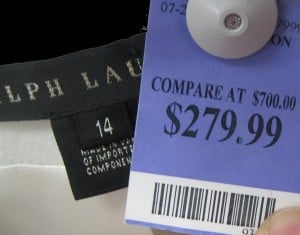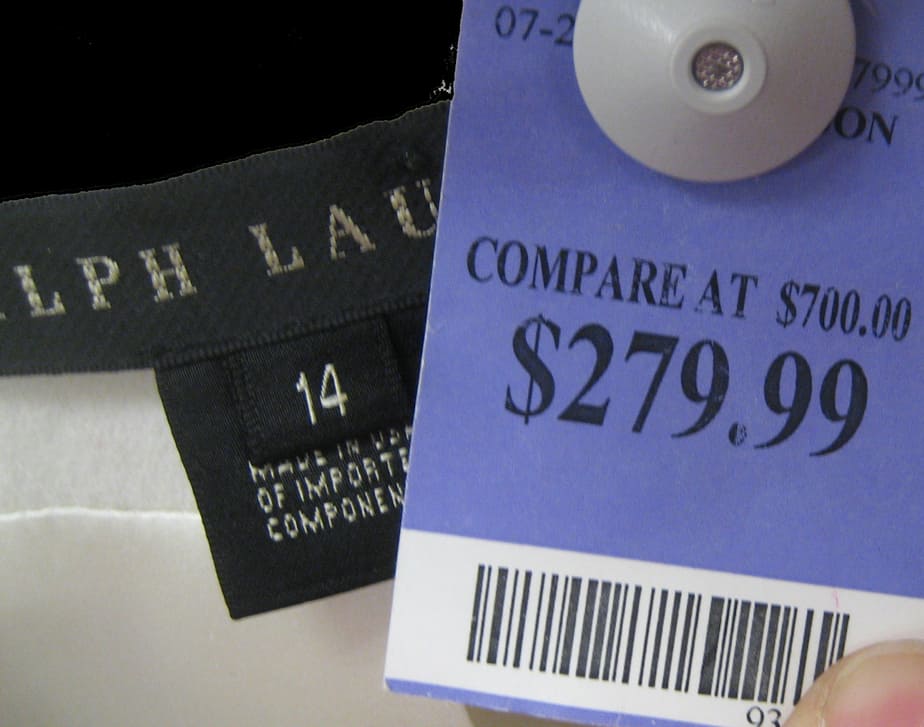 In my law school days, I was a huge fan of TJ Maxx — I'd spend many a study break roaming the aisles, looking for treasure (and finding it more often than not — I once got a pair of Armani trousers there, deeply discounted to $80.)  Still, I haven't been a regular shopper there in years.
Part of it was lack of time on my part (as you ladies know, it's often a challenge to shop in the store when you work long hours and can't get there before they close!), and part of it was a general dissatisfaction when I'd been to NYC stores. (I've always found that TJ Maxx can be very location-centric — if you're in a ritzier area, the store will have much better merchandise than it will in a worse neighborhood. For example, I'd heard reports of a friend finding La Perla lingerie in a bargain bin at the store in the Hamptons; my Armani find was from the store near the posh Chevy Chase, MD.)
Still, I never quite "got it" — how could they have the same dress that I'd just seen at the department store, but for 50% off? I assumed that everything was irregulars, or that perhaps there was some problem I couldn't quite detect (like a sloppy stitch somewhere) or didn't care about (e.g., a mislabeled size).
So a a few weeks ago, I was honored to be invited (along with a few other bloggers) to visit the headquarters of TJ Maxx and hear more about their business…. and since a lot of you readers may be traveling to more suburban homes this weekend, I thought I'd talk about it today.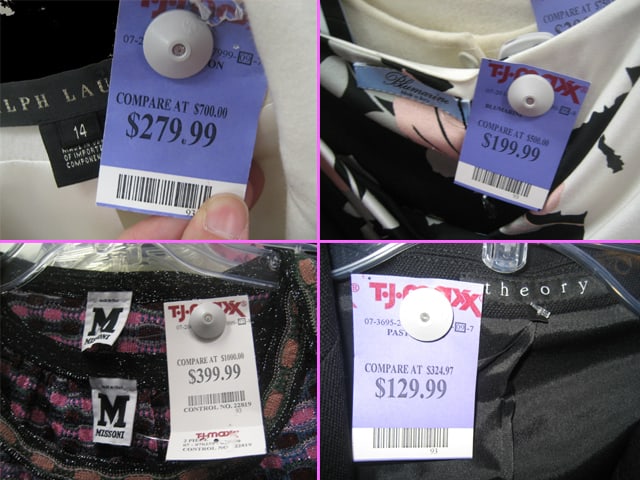 (The company owns both TJ Maxx and Marshalls — and while there are differences between the two, such as Marshalls' huge shoe selection or its teen section, most of those differences probably won't matter to you guys for the moment.)
I was particularly thrilled when the president of the company personally came to talk to our small group and talk a bit about the "secret sauce." As it turns out, a lot of the reason they can have such low prices (20-60% off retail) is because they do business differently than department stores and other retailers.
For example, department stores may make clothes purchases six months in advance. Their buyers may not have the autonomy to make on-the-spot deals and negotiations. Department stores may return unpurchased merchandise — and their payment terms might be longer because of that. Other stores may also go back to the vendor and ask them to contribute to advertising campaigns featuring the clothes.
By contrast, TJ Maxx and Marshalls buyers have complete autonomy — they can negotiate a good deal on the spot. Furthermore, they don't buy a huge amount in advance — as of the day of my visit (11/4), the president said the company had $200M to spend *by the end of the year* — so they can roll with the punches if a new trend surfaces, or if there are any particularly hot products. Because of their business practices (prompt payment, not returning anything to the vendor), they can negotiate some great deals.
(Trust me, all of the fashion bloggers walked out of the room wishing they could be a TJ Maxx buyer — it sounded like a really fun job!)  (I was also interested to know that whatever doesn't sell, they give to Goodwill.)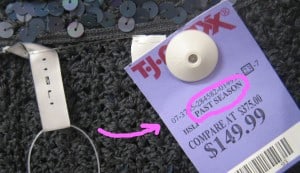 The president also corrected some misconceptions I'd had, such as there being a lot of irregular merchandise, or past seasons — 85% of the merchandise is current, regular stuff. The other 15%, the president said, is either from a past season (and clearly marked as such) (for example, see the picture at right), or else it's an evergreen product, such as white tube socks, or brightly colored wrapping paper.
Something else that was news to me was TJ Maxx's "Runway" — designer clothes, marked down. Only some TJ Maxx stores have this section — you can check to see if a store near you has one by using the Store Locator.
Still, some of the stores with the Runway section are unadvertised, such as the one in New York. Like any good fashion blogger, though, I got the details: it's at 99th and Columbus! I swung by the store myself a weekend or so ago to take a look at see what sort of items could be found. Sure enough, the Runway section was by the bottom of the escalator, right when you entered: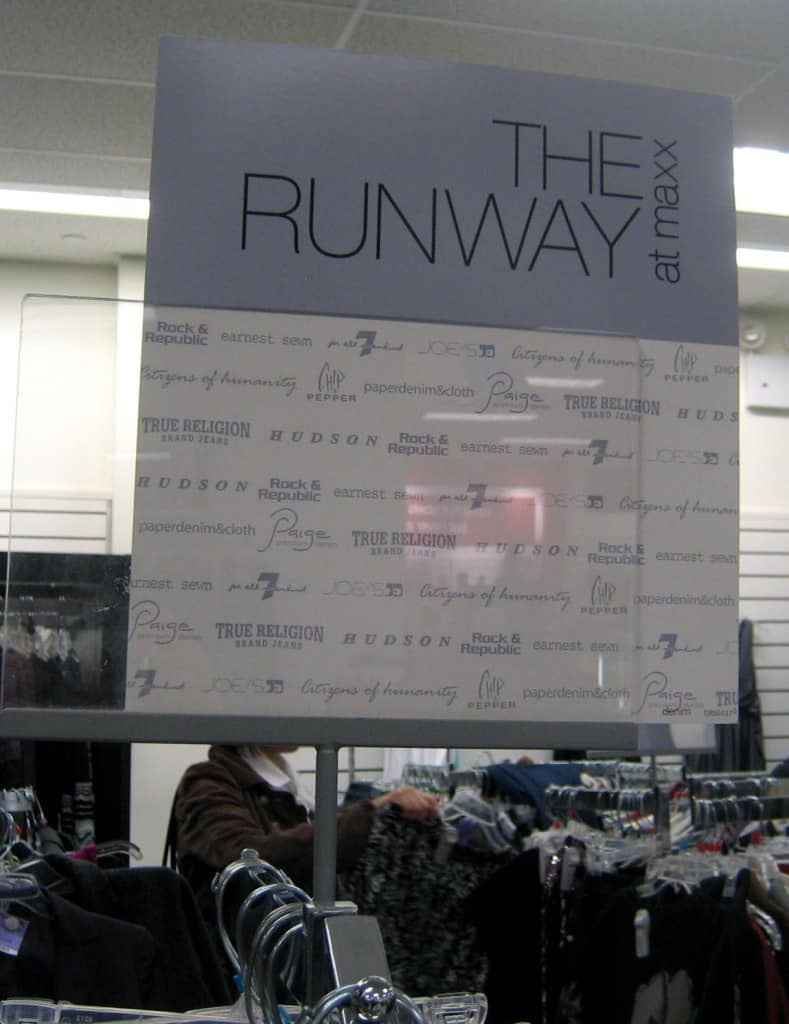 And there were a ton of great pieces, including a Missoni twinset for $399 (formerly $1000), a pair of Kate Spade wedge heels in black suede marked to $149.99 (was $225), a white Ralph Lauren cashmere/wool blazer (was $700, now $279.99), and a black wool Theory blazer from a previous season for $129.99. (I was interested that even though the Theory tag still said $425, the TJ Maxx "compare at" price was $324.)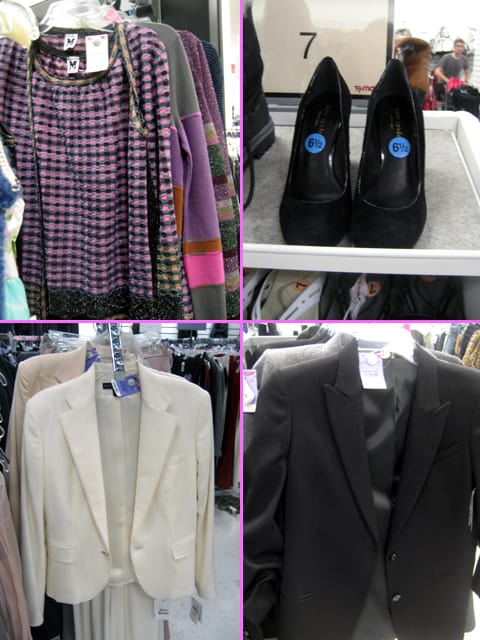 I saw some other great finds, as well– Vivienne Tam dresses, Blumarine blouses, Iisli sweaters — and that was just in the Runway section! Elsewhere in the store I spied Pour La Victoire and L.A.M.B. shoes, as well brands like Calvin Klein, Anne Klein, Cole Haan, and more.
All in all, I think I need to throw this store into my repertoire more often. These are some of my best tips for shopping at a place like TJ Maxx or Marshalls:
view it as a treasure hunt — it's hard to go with a laundry list of things you need, but you can get some great deals if you're ready to take advantage of them
know your brands! Knowledge of fashion goes a long way — from knowing which European brands are worth your time, to understanding a designer's different lines.
get to know your store manager if you're really serious about it — some TJ Maxx stores receive shipments once a week, some once every other week — and a lot of the good stuff goes quickly.
Readers, what are your best tips for shopping at an "off-price" store like TJ Maxx or Marshalls? What have been your best "finds" at a place like this?
(Disclosure: My trip expenses were paid by TJ Maxx, and they gifted each blogger a $100 gift card to use, as well as a $50 gift card for a "Secret Santa" swap. (I got Karen, the lovely blogger behind 2 Garnets & 3 Sapphires, a dark blue wallet from B. Makowsky and a red scarf. I'll report back in when I receive my gift, or use the gift card.) Some of the other bloggers have already posted about the event, if you'd like to read more about it: Glam, Lovelyish, The Clothes Horse, The Stories of A2Z, Southern Bella's Way to Save, TipJunkie, 2 Garnets & 3 Sapphires (she took a video of the president's speech, also)… It was great meeting everyone, from the other bloggers to the TJM team!)
Update (12/4): Many thanks to Chadner Navarro of Lemondrop for being my Secret Santa! He sent a lovely gift box of linguine, perfume, and a gorgeous tea set!