This post is written by Kat Griffin, but brought to you by Corporette sponsor, Freshpair.
A long time ago, I used to wear all sorts of bras to work. Lacy bras! Bras with seams! I even had a few beautiful demi-cup bras that I got on a trip to Paris that really did not "contain me," so to speak, for the office. I don't remember if t-shirt bras got popular in the meantime or if I just discovered them, but since that discovery I really cannot wear anything else to the office. It actively bugs me if I'm wearing a blouse or a simple jersey top and I can see the lace through the top, or the seams of the bra — it just seems to be distracting, which is the number one office no-no. Every woman is particular, of course, as to which bra will be comfortable — but I thought I'd round up some of the bestselling bras that I've heard great things about or could vouch for myself. You can see Freshpair's entire selection of t-shirt bras here, or check out our round-up after the jump… Please chime in with your own favorites in comments!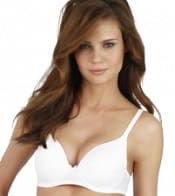 I've heard great things about this bra as being very durable, even though it's inexpensive. Alas, it only comes in sizes A and B, in beige and white. It's $14.99 at Freshpair. Value-In-Style Microfiber Wireless Bra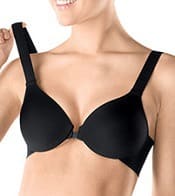 "I am obsessed with this bra," a friend told me a while ago — she wears her Spanx Bra-Lelujah under everything. It's available in black, mocha and beige in sizes 32A-38DD at for $62.00 at Freshpair. Bra-Llelujah Full Coverage Front Closure Bra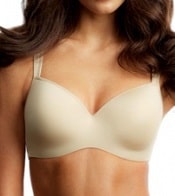 I have this bra myself — it's one of my favorites! Very comfortable, and the "molded cup" prevents headlights without adding more to my already ample bosom. This one's available in sizes 32C-44G for $69 at Freshpair. Dream Tisha Underwire Bra
Readers, which t-shirt bras are your favorite?