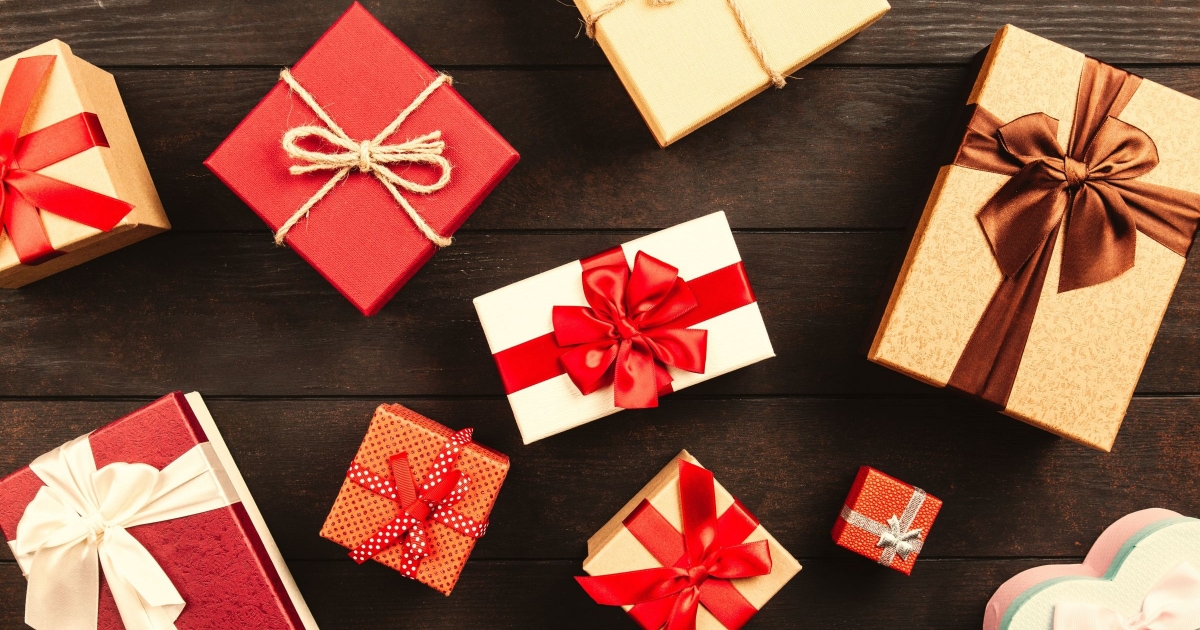 2020 Update – We still think this is a great poll on the best holiday presents for administrative assistants and secretaries — you may also want to check out some of our more recent gift ideas.
A number of readers have written in asking about holiday presents for administrative assistants. We tend to agree with Above the Law's advice last year — cash is the way to go for holidays. Still, we thought we'd poll people to see what they're giving (and how much):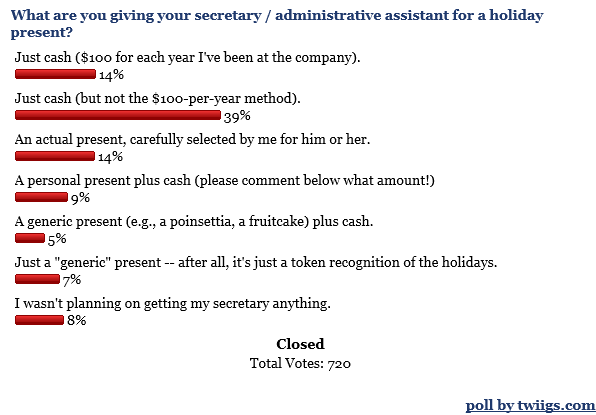 The Best Holiday Presents for Administrative Assistants and Secretaries
In general, this has been my understanding of the best holiday presents for administrative assistants and secretaries:
For birthdays, give flowers
This alerts the rest of the office that it's the secretary's birthday (and gee, doesn't s/he have a great boss for getting her/him such swell flowers?)
For unfortunate events, give food baskets
For example, if your secretary breaks her leg or her grandmother dies, it would be rude not to send something to the hospital or to her home — and foo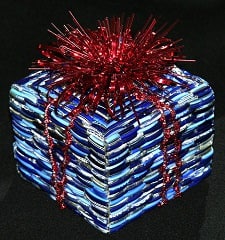 d is better than flowers because it recognizes that your secretary is probably too overwhelmed to be cooking right now
For Service Above and Beyond
for service above and beyond secretarial duties (anything from watering your plants while you honeymoon to covering for you while you interview elsewhere), give gift cards, plants, take him or her out to lunch, or give him or her a more personal gift
What to Give Your Administrative Assistant for Year-End Holidays:
For year-end holidays, give cash — by itself.
As we said above, we agree with the AtL thread last year, and have heard that you should give your secretary $100 for each year you've served your company or firm (so, a sixth year would pay $600, regardless of how long you've had your secretary — although we've heard some people cap that at $500) — on the theory that this is additional compensation to them for the year, and no one appreciates getting their paycheck in the form of a really amazing pair of shoes or a gift card to a fancy restaurant.
(We've heard time and time again that this is true for Big Law firms — we must admit, we don't know what the rules are for smaller firms and other industries.)
Readers, as always, please comment — what will you be giving this year as holiday presents for administrative assistants and secretaries? Do you agree with our theory of secretarial compensation? What would you recommend doing if you had your secretary for less than a year?

Photo Credit: Christmas present, originally uploaded to Flickr by kjoyner666
Further Reading: