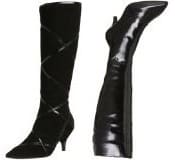 Ever since we read a Washington Post article suggesting Condaleezza Rice looked like a dominatrix when she wore knee-high boots to a meeting, we've been a bit apprehensive about wearing knee-high boots in a professional capacity. So, of course, we polled you guys. The poll is still open, but the answers thus far are in:
37% of you said sure, why not.
28% of you said no, never.
33% of you said, only if worn with dark tights.
We think the numbers speak for themselves — women are pretty divided on this issue. (Our $.02: If you're a young woman who wears boots to the office, observe your office carefully before you wear them again to see if you're the only one doing so.) Some commenters noted this was an East Coast/West Coast issue — others noted that a boot with a low kitten heel (and not a stiletto) was appropriate for the office, as well as a boot with a flat heel.
Low kitten heels seem hard to find this season, but we must admit — the two above are super cute. Pictured: Georgina Goodman Women's Ingrid Boot, $1247.95; Nine West Women's Outdone Boot, $179.
Some of Our Latest Favorite Boots Under 2.5″
Stay tuned for a roundup of our latest favorite knee-high boots under 2.5″!