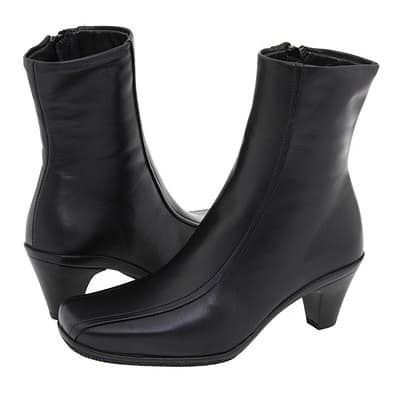 2020 Update: Hunting for boots for suits? Check out our recent roundups of the best ankle boots for work and stylish booties for the office.
Today's reader question has to do with boots for suits:
Spending a lot of time in cold, wet Washington the last few weeks has convinced me I have got to find boots that I can wear with a suit. I don't want to be Sarah Palinesque, and as much as I love my Frye Harness Boots, that is clearly not the look. What advice do you have for boots with a basic conservative suit (think Lafayette)?
This is a great question, as — you're right — the Harness
boots probably aren't the look. We would argue that, on casual days, you can probably wear things like Hunter
rain boots beneath your suit pants while traveling to/from the office, provided you switch into pumps once arriving at the office — but then, Hunter boots aren't the best when it's freezing. (And, lest you make the same mistake we've made: The classic Uggs are not waterproof. Yes, they are both ugly and nonfunctional.) We've always heard great things about the LaCanadienne brand: supposedly ridiculously comfortable, fashionable(ish), and waterproof. (Pictured at top: La Canadienne – Doreta (Black Leather) – Footwear
, on sale at Zappos for $199 (formerly $250).) We would probably stick with this kind of boot to wear with suits — mid-calf, so it won't look too odd beneath your pant leg, with a reasonably low heel that you can walk in if it's icy and cold. (You might want to think about what kind of socks you'll wear with it when you buy it — e.g., the thicker the sock, the larger the size.) If even that one looks too high, you may want to try a wedge boot (particularly if your suit pants are hemmed for heels) or something lower, such as these "Flora" boots by Santana (pictured at right.) (Santana – Flora (Black Suede) – Footwear
, available at Zappos for $124.)
If you don't care about fashion at all (or heel height), we've had good luck with the inexpensive waterproof shoes and boots from Land's End. For example, try the "Weatherly Shoes," now on sale for $19.99.
Readers, how do you survive the cold, rain, sleet, and snow? What do you think are the best boots for suits?