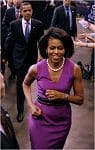 Today's reader mail comes from someone curious about the "no bare arms" rule…
I'm soon going to be a summer associate at a relatively conservative NYC law firm (not business formal, but a notch below), and I was wondering what you specifically mean by "no bare arms." While I'm obviously not going to go sleeveless, can I be seen outside my cube in a short-sleeved dress w/o throwing on a cardigan? Like this? Will partners look askance at a 3/4 sleeve cardigan? Do I simply need to cover my elbows?
As far as we know, the traditional rule was always that short sleeves are fine — the elbows can be showing. There is no problem with a 3/4 cardigan or even a short-sleeved blouse (like the one we featured today).
Stepping away from that particular reader's query… we were thinking about this the other day — why this rule still exists, in this day and age. Michelle Obama appears on cover after cover wearing strapless dresses and people think, that looks totally work appropriate! And on her, it does. And there lies the rub, we think. The basis of many rules in corporate fashion is about the lowest common denominator. The no-bare-arm rule exists because it's gauche to say no-bare-arms-unless-you-have-amazing-triceps-and-deltoids. Who would judge?* Another basis for a lot of these rules is whether a man could wear it. If you saw your male, 55-year-old boss in a short-sleeved polo or a t-shirt, you probably wouldn't think much of it — put him in a wife beater and you'd be stuck thinking "ohmygodohmygodohmygod just act normal." This is not to say that if you DO have Michelle Obama arms, that you're the exception and you get to wear sleeveless dresses — but rather to explain why you cannot; you do not set the standards and you are best advised to adhere to the standards set by others. (At least until you're the boss, at which time you can choose which rules to break.) Are the rules stupid? Well, maybe, particularly if you and your trainer have spent hours on those arms. But this is the choice that young women entering corporate America are faced with: which is more important, your career — even if it means following stupid rules — or your vanity?
* Wow, lots of reader comments, and so we've edited the text a bit to remove our suggestion that you might not want to see your boss's arms if she had anything but the leanest body. Lots of interesting questions that we've unwittingly stirred up, though — does the rule try to avoid sizeism, or does it perpetuate it? Is our hypothesis for why the rule exists totally off base?
Just our $.02 — readers, please weigh in.