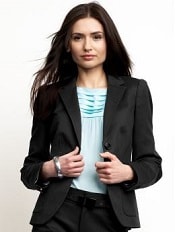 Can a basic black suit be found for under $200? We love reader mail — and this reader wonders about budget black suits!
Hi folks – love your blog! I'm in a bind, hoping you might have some advice. I'm currently an at-home mom but I'm also an adjunct instructor at the university, and I do some occasional consulting. I got rid of most of my suits when I left corporate 6 years ago. I have a funeral to attend in two weeks, and don't have much in the form of a black or navy skirt suit. I'd like to find something reasonable, conservative but hip and somewhat fitted that I can wear for future client meetings or teaching. I'd need to go to a store to try things on. I live near several malls – any suggestions on where to go? We have a Macy's, Nordstroms, Banana Republic, etc. but looking on their websites, I haven't seen much in my price range (about $200). Thanks so much!!
First: we're so sorry for your loss! Second, though, congrats on your position — so many people would dream of that trio of things: the flexibility to be with your child(ren), the status and intellectual challenge of a teaching position, and the option for income with consulting. Well done! Now, on to your question. A hip black or navy skirt suit for $200 is actually fairly doable. If what you want is one-stop brick and mortar shopping, our suggestion would be Macy's, given your budget. In the suit section (which for some reason is not completely online), Macy's has very basic skirt suits by Tahari that tend to fit great, and retail for full price (last we checked) around $140. Look for the most basic skirt suit they have — no ruffles or pleating on the skirt, which will hopefully be straight or a narrow A-line. For the jacket, try to avoid memorable things — toggles instead of buttons, poufy shoulders, a built-in belt — you want this suit to be the one you wear when you want the focus on you, NOT your clothing. If your mall happens to have both a Banana Republic AND a Macy's, you might want to check out the 30% off sale that Banana Republic is having through Wednesday, January 28. By our calculation, you can get three pieces of the "sleek black" suiting for $201 — jacket, A-line skirt, and pants. (If you can't get to the mall before Wednesday, you might want to think about purchasing online and returning if it doesn't fit perfectly — we've never had a problem with BR's return process. Check their shipping times against your event, though, to make sure it will come in time.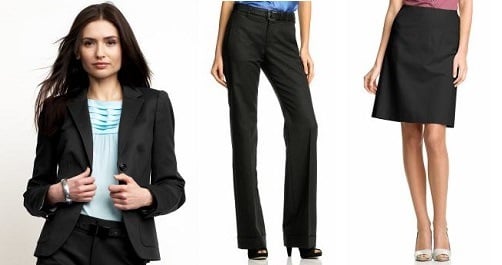 Pictured above:
Sleek flap-pocket blazer – Black, was $150, now $104
718 Martin sleek straight pant – Black, was $79, now $55
Sleek A-line skirt – Black, was $59, now $41
Another option in your budget — but more time intensive — would be to head to your local Filene's, Loehman's, TJ Maxx, or Nordstrom Rack to see if they have any selections. If possible, head to the the store in the "best" area of town in your city — we've found that the pickings tend to be the best at these stores. Another option is always to find a
Chelsea Premium Outlets
mall — the chain of outlet malls that includes the
Woodbury Common Premium Outlets
near New York City and
Leesburg Corner Premium Outlets
near DC — and hit the stores. We'd suggest trying Off Saks and other true outlet stores, avoiding stores with "factory" in the name (the difference being that "factory" stores sell clothes that were never in the regular stores — in our experience they have a lower quality than the regular stuff but cost almost as much as the stuff in the stores).
Finally, a few words on mixing and matching: please don't.
Blacks (and navies) (navys?) are incredibly hard to match if you didn't buy them together. You'll think your outfit looks fine and then
stumble into some bad lighting
and suddenly, you look like you're wearing red and green together. If you're going to try to mix, get as far away from any perceived hope of matching as possible. For the funeral: try wearing a charcoal sheath dress with a lighter gray cardigan (the "monotone but not" look). Or, try wearing a black sheath dress with a charcoal suit jacket, perhaps accented by a black scarf.
We are a participant in the Amazon Services LLC Associates Program, an affiliate advertising program designed to provide a means for us to earn fees by linking to Amazon.com and affiliated sites.