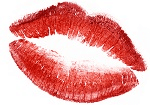 Reader E sent us this interesting query…
Increasingly, I see ladies in all situations and events wearing pink or lip-colored lipstick. Seems like the days of Revlon's Volcanic Red or Love That Red are now only in the print magazines. Or perhaps only when the lady is actually wearing red clothing (oh, that's really dated, matching the lipstick to clothing). What says Corporette?
A few months ago we attended a conference and were shocked — shocked, we tell you — to see how many of the women speaking on the panels were wearing red lips. They looked great, don't get us wrong — but we couldn't fathom how they trusted a red lipstick enough to keep it on for a whole hour and a half of speaking. Pictured: red lips isolated in white, originally uploaded to Flickr by TaniaSaiz.
It seems like there are a few pros, as well as cons, to the red lip. First, if you wear little-to-no makeup and suddenly add a red lipstick, it immediately dresses you up, adds color to your face (great for photographs, also) and yes, conveys a bit of authority as well as femininity. And, because you're wearing a red lip, no one will fault you for not wearing any other makeup. However, the major con is that the red lip can fade unevenly, leaving an unpleasant (and aging) "line" around the outer rim of your lip. Furthermore, the shade is absolutely essential — a great red can make you look alive and sexy and confident and powerful, but a wrong red can make you look dead and unfashionable and frumpy. Finally, another con (as we see it) is that a red lip will almost always leave a stain on a coffee cup, a napkin, a wine glass, etc. — it seems to float there between you and your colleagues, as if it were a flag saying "I'm High Maintenance." Better yet? The red-lipstick-stain-on-teeth look.
Having weighed these pros and cons, for our $.02, we go with a nude/light plummy lip when we're in a "must look confident and authoritative without checking makeup" situation. We also wear this look when we're going out on the town — it allows us to add a lot of emphasis to our eyes without being "overdone," and hopefully the eye makeup will survive a night of dining, drinking, and talking. (Specifically, we like to mix the L'Oreal Infallible LipColour, Nutmeg 800 with a MAC Pro Longwear Color (we think it's Night Rose, but our tube is ancient), and then top everything with the L'Oreal Infallible Never Fail Lipgloss, Barely Nude 815.) But — that's just our $.02 — and if we had found in our travels a red color that we liked and stayed put reliably we might change our tune. Let's take a poll — readers, what do you wear? And in comments, please let us know specifics — brands and colors, as well as any tricks you use to get your lipstick to stay put.