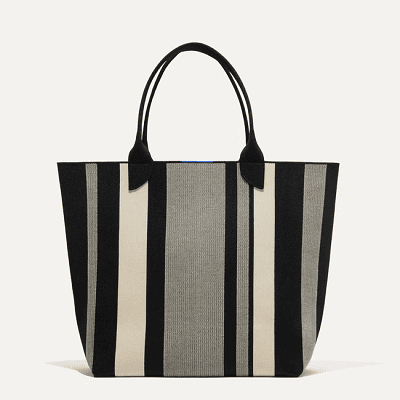 Consider this your friendly reminder that, if you have any referral credits to use with Rothy's, today is your last day to use them because they're revamping the program.
From the email I got as a customer (not as a blogger):
Exciting news—we're revamping our referral program to make it the best it can be for our community. And while it's under construction, we encourage you to use any unredeemed rewards by November 15 in preparation for the new program. After that date, you won't have access to your existing referral dashboard.

Right now, you can check your available rewards —just log in! Thanks so much for helping spread the word about Rothy's! We'll let you know when our new and improved referral program is up and running.

Readers obviously love their shoes — the Point, the square toe, the three different loafers — but Rothy's also has great bags. I got a red crossbody from them a year or so ago, and love how lightweight yet sturdy it is.
This black and cream stripey tote is gorgeous, and I think would add some style to almost any outfit. It's $179, at Rothy's.
Workwear sales of note for 12.7.23
Our favorites are in bold!