Spending
How much do you spend on the following categories on a monthly basis?
Groceries: $200
Restaurants, bars, takeout, and delivery: $70 (varies a lot by month, and down a lot currently, but this is the average)
Clothing and accessories: $50ish
Transportation: $200 car insurance, $50–$75 gas
Rent/living expenses: $1,206 for mortgage
Entertainment: $50
Other major expenses: $505 for horses ($325 to lease a horse and $180 for weekly lessons); average of $50–$70 for frisbee, but wild variations; $750 per month for charity; $100 in utilities; $42 for cell phone
Health care – premiums and other costs: $20 weekly in premiums, $50 to HSA. Pay all expenses out of HSA.
What's your spending range for these things? What's your average?
Vacations – Range: $0–$3,000. Every other year, I take big trips in the $2,000–$3,000 range, with smaller weekend trips like camping a couple times a summer.
Vacations – Average: $500
Charity – Range of donations: $20–$100 per organization
Charity – Average donation or giving amount: $750/month
Individual items of clothing – Range: $0–$120
Individual items of clothing – Average: $20
Apartment or house – Range: $550–$1,600
Apartment or house – Current main residence: $1,563 (PITI total cost)
Car or other vehicle – Current main vehicle: $20,000, paid by my parents
Any other large personal expenses?
About yearly I'll pay $200ish to get my hair rebleached and professionally dyed. Also my $600 dollar yearly snowboarding pass.
Fill in the blank on this question: I could save _____ if I stopped ______, but I don't because _______.
I could save $500 a month if I didn't ride horses, but I don't because I love them dearly and they are worth it.
If you have vacation homes, timeshares, or income properties, how much did those cost?
I get $650 plus utilities for a room in my house that I also live in.
Have any large medical expenses (including nursing homes) for yourself or others played a role in your financial picture?
My first year on my own health insurance, I hit the out-of-pocket max, so now I always max my HSA and don't pick the highest-deductible plan.
At any point in your life to date, has inheritance played a role in your money situation?
I received $5,000 when my grandfather died — and then not inheritance, but the $200,000 UGMA of my leftover college fund was very significant to my financial picture.
Does your family provide any non-financial support?
Just love and advice. (They live far away.)
Money Strategy
Do you have a general money strategy?
Save a lot and donate a lot. And prioritize experiences and doing things that you love over just spending money. Think about the value of every purchase before making it, and after it's made try not to overthink and regret it.
Time vs. money — do you spend money to save time (e.g., cleaning service)? Do you donate your time instead of money? What else does this phrase mean to you?
I bought a Roomba to save me time cleaning. I try to donate both time and money, and try to think about which one will be most effective for each organization.
What are your favorite resources for personal finance?
I love the Boglehead website. Lots of solid investing advice for minimizing fees, maximizing earnings, and making your money work for you. And living below your means but generally not to the extremes of no longer enjoying life.
What advice would you give your younger self about personal finance?
Save more in tax-advantaged accounts and less in taxable.
Icons via Stencil.
In honor of this series' original title (Tales from the Wallet)… here's a great wallet!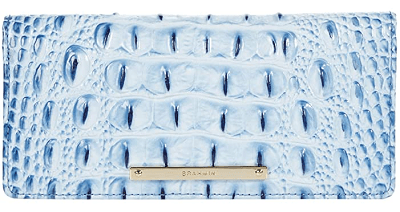 This post contains affiliate links and Corporette® may earn commissions for purchases made through links in this post. For more details see here. Thank you so much for your support!