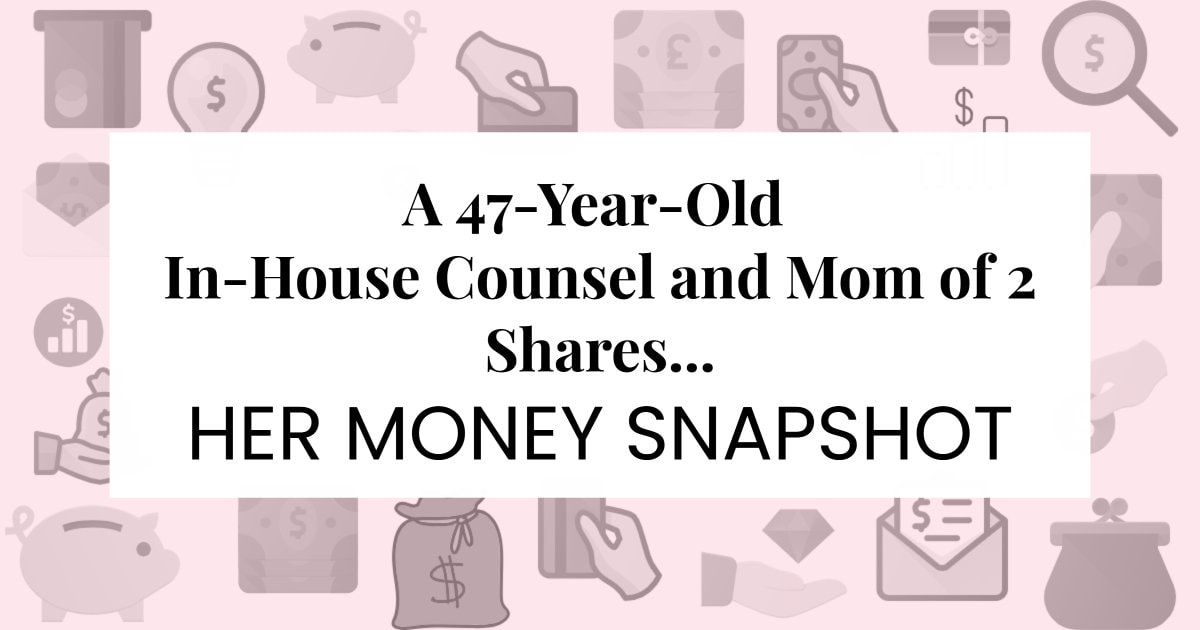 For today's Money Snapshot, we're talking salary, net worth, debt, and more with reader C, who lives in an HCOL area and works as an in-house counsel. She noted, "Our expenses … feel like they are high right now, but we try to not get into the trap of having discretionary spending that stops our goals to save for retirement."
We got a few requests from readers to launch our own "money diary" series, so we've asked willing readers to fill out a form with lots of details about debt, spending, saving, and more! If you'd like to fill out the form and be considered for a future personal money snapshot, please click here to submit your response! You can see a PDF of the questions if you want to review them ahead of time. See others in the Personal Money Snapshot series here.
Please remember that this is is a real person who has feelings and isn't gaining anything from this, unlike your usual friendly (soul-deadened, thick-skinned, cold-hearted, money-grubbing) blogger — so please be kind with any comments. Thank you! — Kat
Name: C
Location: HCOL area
Age: 47
Occupation: Medium/large law firm –> in-house for last decade
Income: $220,000 base, $75,000 bonus, approx. $150,000 realized equity annually
Partner: Husband, age 47
Children: I have two children. One is in a private school that costs $40,000 per year; the other child is in a public school. We also pay around $12,000 per year for summer camps, after-school activities, sports teams, etc.
Household income: Approx. $650,000
Household net worth: Approx. $3M (includes house, retirement assets, some pension, education funds)
Net worth when started working: I started work at 22 out of college with a negative $40,000 net worth. I worked for three years then went to law school. When I started work after law school, I had a negative $75,000 net worth.
Living situation: Own house, monthly mortgage payment of $5,400
Debt
How much debt do you have currently?
Our only significant debt is (1) our mortgage, which is $350,000 and (2) student loans, which are around $30,000.
What does your debt picture look like?
My debt picture is pretty straightforward — we have a mortgage, smaller student loan bills, and normal house costs. We have two children that are approaching college, so we have been saving more in anticipation of paying college bills soon.
How did you pay for school?
I went to a college based on the scholarships and financial aid that were available because my parents were not able to contribute financially. I did have some family support to help pay for books or the occasional plane ticket home. In college, I always had a job to help pay for daily expenses. After college, I worked for a few years to save up some money before going to law school. I partly choose my law school based on scholarships, but was also really careful not to spend much money during law school to minimize the loans I needed to take out.
Do you own or rent? How much do you pay monthly?
Monthly mortgage of $5,400
Home debt: Share your theories and strategies with us.
We have been in our current house for 10 years. We originally had a 30-year loan with a rate of 3.5%, but we were able to refinance down to a 15-year loan at 2.75% a couple of years ago. It makes our monthly payment higher, but now we have less than 10 years of payments on our current home. We live in a HCOL, but we have been lucky that our house value has pretty consistently increased over time.
Have you paid off any major debt?
We have consistently been paying down our student loans for 25 years, but we have lucky to have low interest rates on outstanding balances, so it doesn't make much sense to pay these off early.
Have you ever done anything noteworthy to avoid or lessen debt, such as cashing out your 401K early?
No — we think its important to fully fund our 401k each year and not to touch that money.
Savings, Investments & Retirement
How much do you save each month or year in retirement vehicles like 401Ks, Roth IRAs, and others?
We each save the max amount on our 401ks annually — that will be $44,000 this year. There are employer matches of around $5,000.
How much money do you allocate to other tax-savvy investments/accounts like HSAs, 529s, FSAs, and others?
Annually, we save around $12,000 in 529 accounts for children.
How much do you save outside of retirement accounts?
Besides retirement savings + education savings, we aren't saving much additional money at the current time.
Talk to us about investments. Do you use a financial adviser or planner?
Over time, we have worked to consolidate most of our assets with a financial advisor, but we still have some accounts with older employers. Our financial advisor helps with investment strategies, but its mostly straightforward funds / target retirement funds.
Do you have an end goal for saving or are you just saving for a rainy day?
Our current goal is to be able to pay for our children to attend a private college, if that's what they want to do. I want to be able to retire comfortably but am not worried about retiring early. I am concerned about earning power later in my career, as I've seen lots of women closer to retirement get laid off. I'd rather save more aggressively now than worry about funding retirement in the later stages of my career.
When did you start saving seriously? How has your savings strategy changed over the years?
I started saving seriously when I was working at a law firm right after law school.
What's the #1 thing you're doing to save money, limit spending, or live frugally?
Maybe not the #1 thing, but we only have one car in our family.
Have you ever made a big money move or investment with savings in mind, such as rolling over an older IRA into a Roth IRA or superfunding a 529?
I used to contribute to a Roth 401(k) account, but that doesn't make much sense from a tax perspective at the current time.
Do you have an estate plan in place? A trust?
We have a simple will in place, but it definitely needs an update.
How much do you have in cash that's available today?
$36,000
How much do you have in cash that's available in a week?
$100,000
How much is in your "emergency fund," and did you include it in the previous question?
$20,000 in cash, in a savings account
How much do you have in retirement savings?
$850,000 (me), $800,000 (partner, but he also will get some pension)
How much do you have in long-term investments and savings (CDs, index funds, stocks) that are not behind a retirement wall?
$250,000 (not including 529 accounts; $12,000 annual contribution)
If property values (home, car) are included in your net worth, how much are those worth?
House market value $1.4M; net value $1M
Spending
How much do you spend on the following categories on a monthly basis?
Groceries: $1,100
Restaurants, bars, takeout, and delivery: $750
Clothing and accessories: $300
Transportation: $150
Rent/living expenses: Mortgage $5,400 per month
Kid-related expenses: $7,000 (includes tuition)
Entertainment: $400
Other major expenses: We pay $2,300 per month for part-time child care and household help / cleaning.
Health care – premiums and other costs: Not sure — husband's employer has good + cheap healthcare, which is a big benefit.
What's your spending range for these things? What's your average?
Vacations – Range: $2,000–$8,000
Vacations – Average: $5,000
Charity – Range of donations: $4,000–$5,000 total annually
Charity – Average donation or giving amount: $200 monthly to church; $50–$100 for other causes
Individual items of clothing – Range: $40–$200
Individual items of clothing – Average: $50 (I buy lots on sales/thrift.)
Car or other vehicle – Current main vehicle: Don't have a car payment; we have paid for cars with cash savings (mid-sized SUV, $38,000).
If you own, how much does your home cost?
House purchased for $800,000, current market value around $1.4M.
If you have vacation homes, timeshares, or income properties, how much did those cost?
We don't have any vacation homes or second properties, but that's a future savings goal.
Any other large personal expenses?
Child care / tuition are our main large personal expenses.
Fill in the blank on this question: I could save _____ if I stopped ______, but I don't because _______.
I could save $500 month if I stopped paying for house cleaning / laundry, but I don't because [it allows] me to work the hours I need to without totally abandoning my children.
How has your family provided financial support in your adult life, if any? (Or, do you provide support to them?)
We haven't formally planned for this but anticipate having to provide some financial support to our parents as they age.
Money Strategy
Do you have a general money strategy?
Our expenses (and taxes!) feel like they are high right now, but we try to not get into the trap of having discretionary spending that stops our goals to save for retirement.
Time vs. money — do you spend money to save time (e.g., cleaning service)? Do you donate your time instead of money? What else does this phrase mean to you?
I am more than happy to pay for any house services that we can outsource — I consider these as an investment in my career and sanity.
What advice would you give your younger self about personal finance?
Invest in your 401(k) early!
Icons via Stencil.
Want more posts like this? These are some of the latest Money Snapshots…