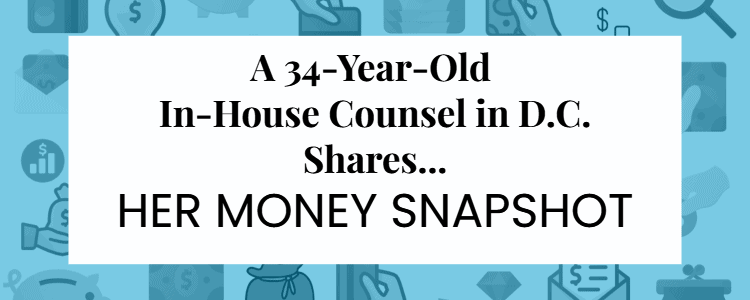 For today's Money Snapshot, we're talking salary, net worth, debt, and more with reader D.C. Attorney in Washington, D.C. She noted, "I like to call my money strategy 'Dave Ramsey light.' Pay off debt, save an emergency fund, invest 15% while realizing that life is short and I don't want my last meal to be rice & beans."
We got a few requests from readers to launch our own "money diary" series, so we've asked willing readers to fill out a form with lots of details about debt, spending, saving, and more! If you'd like to fill out the form and be considered for a future personal money snapshot, please click here to submit your response! You can see a PDF of the questions if you want to review them ahead of time. See others in the Personal Money Snapshot series here.
Please remember that this is is a real person who has feelings and isn't gaining anything from this, unlike your usual friendly (soul-deadened, thick-skinned, cold-hearted, money-grubbing) blogger — so please be kind with any comments. Thank you! — Kat
Name: D.C. Attorney
Location: Washington, D.C.
Age: 34
Occupation: In-house counsel
Income: $200,000
Net worth: Approximately $100,000
Net worth when started working: I started work at 25 with a negative net worth due to student loans.
Living situation: Rent
(Unfortunately, we weren't able to reach D.C. Attorney for follow-up questions.)
Debt
What does your debt picture look like?
I am debt-free!
How did you pay for school?
My parents paid for my undergraduate education at a public university. I took out loans to pay for law school at the same public university.
Do you own or rent? How much do you pay monthly?
I rent; my rent is $2,718/month + $320/month for parking. I am now saving for a house down payment.
I live alone in an apartment building close to my office with amenities, a doorman, and a maintenance team just a call away. Renting just makes the most sense for me at this stage in my life.
Have you paid off any major debt?
I paid off approximately $60,000 in student loans! I was not making my current salary for much of that time so it was a struggle at times but I'm thankful to be on the other side!
Have you ever done anything noteworthy to avoid or lessen debt?
No
Savings, Investments & Retirement
How much do you save each month or year in retirement vehicles like 401Ks, Roth IRAs, and others?
I invest 6% ($1,000) per month in my 401k to take advantage of my employer match, so I'm really investing 12% ($2,000) per investing. I know I should be maxing out my contribution, but since the amount contributed counting my employer match exceeds the maximum contribution for 2021, I give myself a pass. My plan is to start contributing the maximum (not counting any employer match) in 2023 after I've met my current savings goals.
How much money do you allocate to other tax-savvy investments/accounts like HSAs, 529s, FSAs, and others?
None
How much do you save outside of retirement accounts?
I transfer $2,000 to a savings account on the 15th of each month. My goal is to save 10% ($20,000) so I'll apply the extra $4,000 towards a new car!
Talk to us about investments. Do you use a financial adviser or planner?
I do not use a financial advisor or planner.
Do you have an end goal for saving or are you just saving for a rainy day?
Now that I'm debt-free, my goal is to save 10% of my annual income until I have three to six months' expenses in an emergency fund.
When did you start saving seriously? How has your savings strategy changed over the years?
I paid off my student loans in December 2020 and started saving seriously in January 2021. I have been investing 6% in my 401k since I started a job with an employer match.
What's the #1 thing you're doing to save money, limit spending, or live frugally?
Renting
Do you have an estate plan in place? A trust?
No
How much do you have in cash that's available today?
$100?
How much do you have in cash that's available in a week?
$16,000
How much is in your "emergency fund," and did you include it in the previous question?
$16,000
How much do you have in retirement savings?
$100–$150,000
How much do you have in long-term investments and savings (CDs, index funds, stocks) that are not behind a retirement wall?
None
If property values (home, car) are included in your net worth, how much are those worth?
My car is currently valued at approximately $10,000 and I plan to trade it in for a new car in the next few months.
Spending
How much do you spend on the following categories on a monthly basis?
Groceries: $400
Restaurants, bars, takeout, and delivery: $400
Clothing and accessories: $200 for my work wardrobe, $200 for my weekend wardrobe
Transportation: I don't currently have a car payment but I did just order a new car. The new car cost me $50,000, and I'll trade in my current car, valued at $10,000, and pay $4,000 cash. I don't know what my new payment will be, but I'll probably pay $1,000/mo. to pay it off as quickly as possible.
Entertainment: My parents pay for the family Netflix account and I will occasionally sign up for other streaming services to watch a particular show. Right now I'm paying $4.99/month for Peacock Premium to watch Below Deck and $15.85/month for Audible, but both are essentially covered by my $20/month Amex credit for digital entertainment. I don't track what I spend on books because I'm a big reader and it's just better that way.

Health care – premiums and other costs: I pay $125/month for my health insurance, and my glasses and contacts cost around $600/year. I go to the doctor and eye doctor once/year and dentist twice/year.
What's your spending range for these things? What's your average?
Vacations – Range: What are those? In all seriousness, though, the last vacation I went on was with my family to Maui pre-pandemic, and my parents paid.
Charity – Range of donations: My goal is to donate $1,000/month to charity. Rather than set up recurring donations, I like to decide where to give each month based on what's going on in the world. This month [August 2021], I gave $500 to Afghanistan and $500 to Haiti.
Any other large personal expenses?
I spend approximately $50/month on dog food/treats/toys and $400/year for my dog's annual checkup. My apartment charges a $500 non-refundable pet "deposit" and $75/month for pet rent (included in the rent figure quoted above). Our building has a dog park and dog spa so the pet rent is actually worth it. He did recently have a $1,000 surgery and I felt really thankful that I was finally in a position that such an expense didn't derail my savings goals, I just had a higher-than-average credit card bill that month.
I also budget $200/month for personal care products (haircare, skincare, makeup, etc.), $200/month for personal care services (haircuts, facials, massages, mani/pedis), $200/month for workout studios + clothes, and $200/month for apartment decor. So $2,000/month "fun" money [including the $400/mo. for clothes noted above].
How has your family provided financial support in your adult life, if any? (Or, do you provide support to them?)
My parents no longer support me financially but my dad assures me all the time they're still my safety net should I need one!
Fill in the blank on this question: I could save _____ if I stopped ______, but I don't because _______.
I am fairly intentional about my spending, if I'm spending my money on something, it was a conscious decision to do so.
At any point in your life to date, has inheritance played a role in your money situation?
I thankfully haven't received my inheritance yet, but I would say it still plays a role in my money situation. I don't save and invest quite as aggressively as I might if I weren't expecting such a large inheritance from my parents. Still, I hope they live forever, so I do make an effort to remain debt-free, save 10% of my income in an emergency fund, and invest 6% (12% with match) in my 401k, so I'm not exactly cashing out yet either.
Does your family provide any non-financial support?
Being single in your 30s can feel quite isolating, and my parents provide a lot of the emotional support that (I imagine) a partner might.
Money Strategy
Do you have a general money strategy?
I like to call my money strategy "Dave Ramsey light." Pay off debt, save an emergency fund, invest 15% while realizing that life is short and I don't want my last meal to be rice & beans.
Time vs. money — do you spend money to save time (e.g., cleaning service)? Do you donate your time instead of money? What else does this phrase mean to you?
I spend money on a cleaning service twice/month and car wash once/month. I also use meal delivery kits instead of going to the grocery. I wouldn't say I don't have time for these things, though; I simply don't like doing them. For example, I like doing my laundry and bathing my dog so I do those things myself.
What are your favorite resources for personal finance?
Dave Ramsey. I recognize his delivery is not for everyone but his general principles were really helpful for me.
What advice would you give your younger self about personal finance?
You'll thank your parents one day!
Icons via Stencil
Want more posts like this? These are some of the latest Money Snapshots…