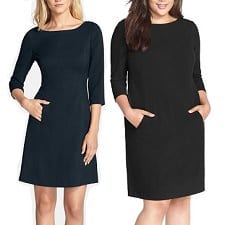 2018 Update: Hunting for sleeved dresses with pockets? Many of these options featured below are still available; we've also added a widget at the bottom with lots more options for sleeved dresses with pockets.
I was just writing something about the best default thing to wear to a networking event (like a conference) where you don't know what to wear — and my answer was, if all else failed, wear "a sleeved dress with pockets." Sleeves because it looks like a complete look — no need for a cardigan or blazer to forget somewhere — and pockets so you have a place to stash business cards, key cards, and more. Then, I thought to myself: good luck finding that workwear unicorn! Despite lots of readers (year after year!)
saying how much they love sleeved dresses — and dresses with pockets! — very few companies are granting that mystical request. So I thought I'd do a mini hunt: FIVE sleeved dresses with pockets. (Psst: here's an old WSJ article about why so many dresses are sleeveless.)
Let's start our hunt with some of the top-rated dresses at Nordstrom…
This dress comes in both elbow-length sleeves, and three-quarter length sleeves. Personally I vastly prefer the three-quarter length sleeves, but that's me. (I also don't mind the exposed zipper — they're so ubiquitous on workwear dresses these days that I don't think they read as "please unzip me!" — but I know many readers feel differently.) The dress is available in regular, petite, and plus sizes for $85-$138. Tahari Seamed A-Line Dress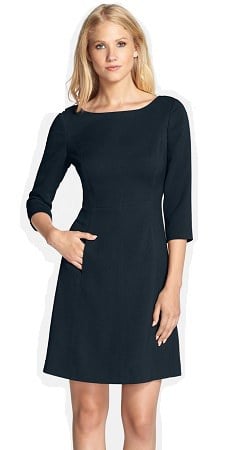 This affordable dress has been around for a while — and although it looks really short on the models (and has an exposed zipper, boo), it has mostly positive reviews. Skimming the reviews, many reviewers note their size, shape, weight/height, etc — so a completely unscientific, skimmed analysis is that it seems to be most popular on petite, fuller figured women… and least popular on taller, thinner women. It's available in about twenty colors, regular, petite and plus sizes, for $88-$148. Vince Camuto Crepe A-Line Dress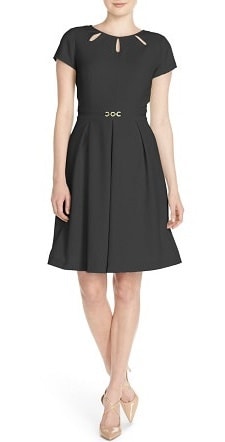 If the exposed zippers on the top two dresses aren't for you, try this Ellen Tracy dress. It's also highly rated (four 5-star reviews), comes in four colors, and has pockets as well as sleeves. I'm a fan of cutouts at the neckline — particularly where, as here, the cutouts won't interfere with a regular bra. (I would advise keeping skipping your necklace or keeping it very minimal/basic, though — a set of pearls or a very delicate, round-shaped necklace (like this or this). The dress is available in petites and regular sizes 2-16. Ellen Tracy Cutout Neck Fit & Flare Dress
MM LaFleur has a number of dresses with pockets — and many are machine washable, as well. This Etsuko dress is one of their long-running best sellers. It's available in five colors, sizes 0P-16, for $195. Etsuko Dress
We mentioned them above, but in case you're curious:
Here are three plus-size dresses with sleeves and pockets: Sejour, Vince Camuto, Tahari
And here are three petite-size dresses with sleeves and pockets: Ellen Tracy, Vince Camto, Tahari
2018 Sleeved Dresses with Pockets

Ladies, have you found a favorite dress with sleeves and pockets? Where and when?