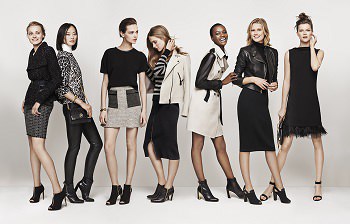 Disclosure: This post is sponsored by Ann Taylor, but written by your usual friendly blogger, Kat Griffin.
Ann Taylor has always been one of my favorite workwear brands, and their fall collection is absolutely gorgeous. (And ladies, do note: they're currently offering 40% off sale styles, with no code needed — huzzah!) I thought I'd take a look at some of the hot new pieces just hitting stores now — readers, do you have any favorites from Ann Taylor's fall collection?
I love the look of this tweed one-button suit (below) — the collarless jacket is very on trend, and the black and gray tweed is sophisticated but not stuffy.  I'd wear it with a bright yellow blouse, and perhaps a pair of purple pumps if I wanted to have a bit of fun with it.  The blazer (Tweed One Button Jacket) is $179, and the skirt (Tweed Pencil Skirt) is $89.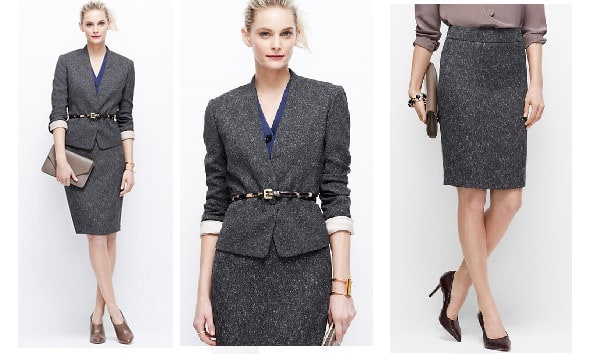 Ann Taylor always excels at tops to wear beneath suits, and their fall collection is no different.  Below:
This is my favorite kind of thing to wear beneath suits: an elevated t-shirt.  The pleated keyhole in front adds interest, the sleeves protect your blazer from sweat (and let you take off your jacket if you're in a no-bare-arms kind of office), yet the tee is machine washable and easy to wear.  This keyhole top is available exclusively online in four colors, sizes regular and petite XXS-XXL. Crepe Pleated Keyhole Top
I love the structure to this seamed crepe top, available in both black and "neutral fog."  I also like the back zipper is hidden instead of exposed.  It's available in regular and petite sizes 00-16 for $79. Seamed Crepe Short Sleeve Top
This wrap blouse is the epitome of relaxed elegance — it's slightly slouchy but still professional.  I like the way the faux leather cuffs would look peeking out of a blazer.  It's available in regular and petite sizes XXS-XL for $79. Faux Leather Trim Crepe Blouse
This high-necked shell is lovely for wearing beneath cardigans and blazers — I like the cascading drape at the neck.  It's machine washable (rayon/poly), too, which is always nice.  It's $59 and available in five colors, sizes XXS-XXL. Draped Shell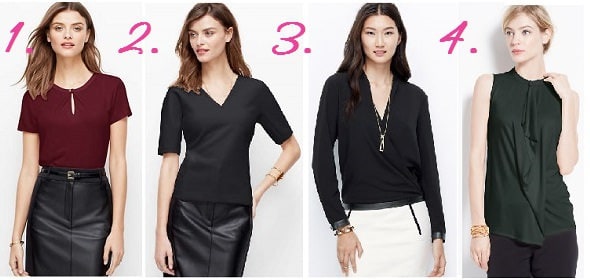 There are a number of cool dresses that you can dress up or dress down for work, including:
This split neck ottoman rib dress is an online exclusive, and I love the rich fall colors (pine and an inky blue).  I would probably go with a a thicker belt than what's pictured, but that's me.  It's available in regular and petites, sizes 00-18, for $139 (and it's machine washable!). Split Neck Ottoman Dress
This belted sheath dress is kind of amazing.  It's made from Ann Taylor's all-season stretch fabric, and the jewel neck, darts, and front slit all look very flattering.  (Make sure to use the Corporette mirror trick to vet the slit, though!)  The dress is available in regular and petite sizes 00-18 for $139. All-Season Stretch Belted Sheath Dress
I don't know why I didn't notice this dress when I picked the pindot suiting for Suit of the Week a few weeks ago — I love the sleeves and the wide boatneck.  It's $139, available in regular and petite, limited sizes 00-18. Pindot Sheath Dress
This lined, machine washable crepe dress (also available in black) looks like the perfect thing to throw on and run out the door — the draping adds enough interest that you don't need much in terms of accessories.  (I'd probably wear it with a delicate short necklace and a neutral blazer that lives at the office, but that's me!)  It's available in regular and petites sizes 00-18 for $98. Crepe Cowl Neck Dress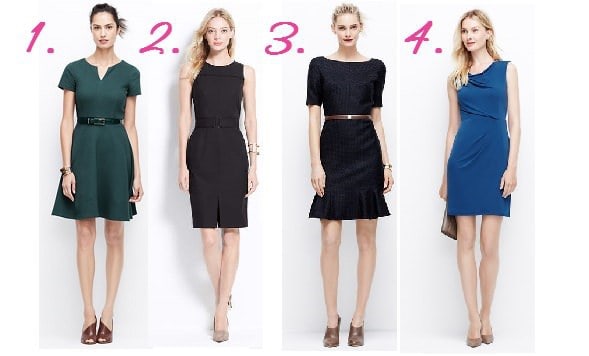 I'm swooning over a number of Ann Taylor's fall workwear separates…
I don't know what it is, but I love flecked fabric like this — it's more interesting than basic black but more versatile (and less memorable) than a print.  This pair looks great for a casual day at the office.  The pants are available in regular, petite, and tall sizes 00-18 for $98. Tab Waist Ankle Pants
Midi skirts continue to trend, and I like this sleek take on it, which seems more wearable than a lot I've seen.  It's available in sizes 00-18 for $89. Long Stretch Pencil Skirt
I'll admit, I'm not a huge fan of the crop top look — but this v-neck cardigan looks like a great basic to throw on over sheath dresses (or, on the weekend, maxi dresses), and I even like the way it's styled with high-waisted pants in the fall lookbook.  (Although clearly that's a know-your-office situation!)  The cardigan is viscose/nylon/wool and available in sizes XS-XL. Cropped V-Neck Cardigan
Sometimes, coated fabrics can look a bit too "tough" for the office — but a wide tweed knit can be too delicate and snag-o-rific.  This coated tweed, then, is the perfect blend of the two — you get the texture and elegance of a tweed but the durability of a coated fabric.  The regular skirt is 20″ long, and available in sizes 00-18. Coated Zip Skirt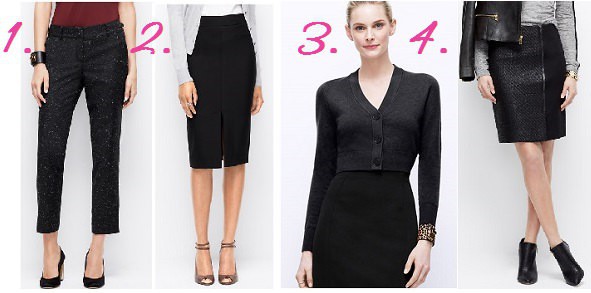 The accessories for fall somehow manage to be basic but fresh at the same time:
I'm kind of obsessed with the geometric, almost architectural lines of this 15″x9″x5″ satchel — it's my favorite size for bags!  It's available in black for $158, and is also available in a larger satchel, smaller shoulder bag, and even a clutch, in black and taupe.  Mini Sutton Satchel
The straight vamp has been popular for a while now, but I've never seen it look quite as elegant as it does in these suede/leather 3.25″ heels.  I've pictured the taupe, but I also like the black; both are $128 (sizes 5-11). Jamie Suede D'Orsay Heels
If you're on the hunt for a north/south tote for work, I love the details on this tote — the gold hardware, the exotic textures — very cool.  The bag is $158. The Delancy Tote
Ooh, hello gorgeous: the quilted details on these 3.5″ block heels are fabulous, as is the round toe.  I like that it comes in multiple beige colors, as well as black and — huzzah! — navy.  (Navy shoes can be hard to find — even though, of course, you can wear black and navy together.) The pump is $128, and available in sizes 5-11.  Shailly Quilted Leather Block Heels