This post is sponsored by Ann Taylor, but written by your local friendly blogger, Kat Griffin.  As per standard Corporette operating procedure, comments on this post have been turned off.
As temperatures rise outside, and air conditioners whir into action inside, the working woman faces a classic dilemma: how to be comfortable in both worlds?  I've rounded up some of our best tips for looking like the competent, professional woman you are (instead of a wilted, sweaty mess).
1. Stay Cool: Skirts and dresses are a great way to keep cool when temperatures soar outside. Sheath dresses, in particular, are a fabulous summer stand-by — even though it may not be appropriate in some offices to willfully roam the halls without sleeves, the sheath dress, by itself, is always a polished look. Either carry a jacket or cardigan with you, or change into the ones you keep at the office. When I stopped by the store the other day I was drooling over the great basic sheath dresses Ann Taylor has out right now: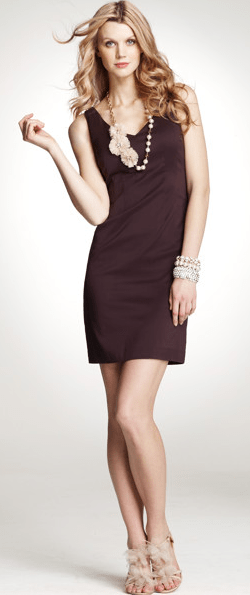 This Cotton Sateen V-Neck Sheath Dress ($138) strikes me as the perfect dress to wear almost year-round. Love the V-neck, love the flattering darts, and love the unusual purple hue.  It would be easy to make the dress more spring-like with a white or cream blazer, or more autumnal with a navy or black blazer. I might try a pastel with it in the summer, as well — a pale blue or mint green cardigan.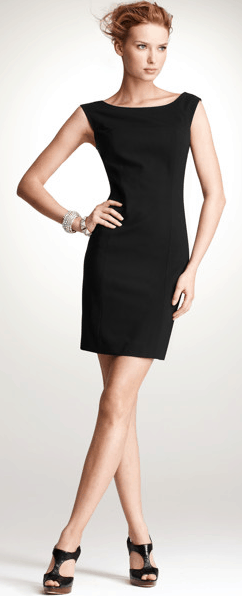 It's hard to go wrong with a basic black dress like this Tropical Wool Bateau Sheath Dress ($148). Love the bateau neckline, particularly when paired with a suit jacket — it's totally appropriate but still flattering (and a great way to showcase a statement piece like a pearl necklace).
2. Keep Warm: Once inside in air conditioning, a cardigan or blazer is essential — not only does it stop you from freezing, but it's a great way to add authority. If done right, it can even help you get more mileage out of your wardrobe, and prevent the "didn't she just wear that on Monday?" syndrome.  For example, check out the way this Ann Taylor sales associate belted her draped cardigan — it's a fabulous look, and the dress would look totally different with a blazer.  (Incidentally, I looove the Ann Taylor Facebook page, which features a "How We Wear It" photo album every month.  Seriously, love it — great space for outfit inspiration.)  Cardigans are also an easy choice in the summertime because you can just wear them over your shoulders when you're outside. (Tip: Be sure to button the cardigan at the top and bottom, at the very least — otherwise it will give you a "Superman's cape" type of look.)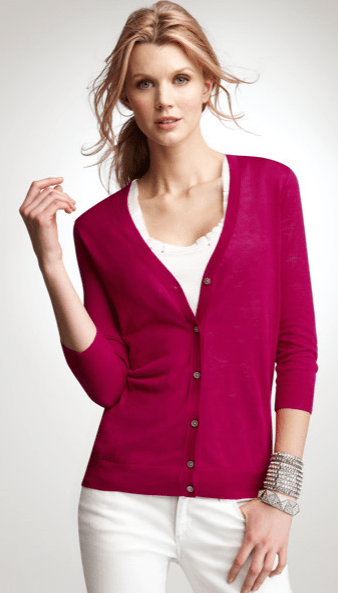 Love the silk/linen blend — and the bright, happy hues — of this V-Neck Cardigan ($78).  In real life it almost has a gauzy look, which makes it seem perfect for summer.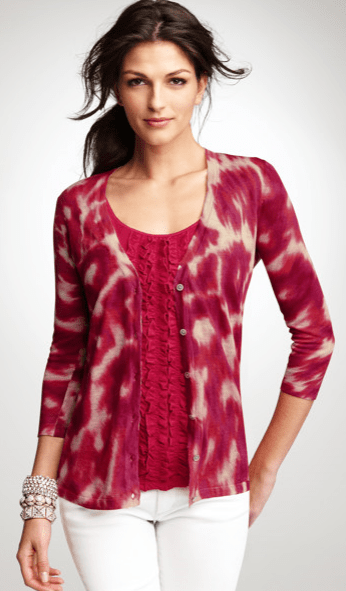 Cardigans can also be great for playing with a bold pattern or a trend, like this Vibrant Animal Print Cardigan ($78).
3. Stay Cool: Choose fabrics that breathe. Fabrics such as linen, silk, and cotton are musts when dealing with summer heat.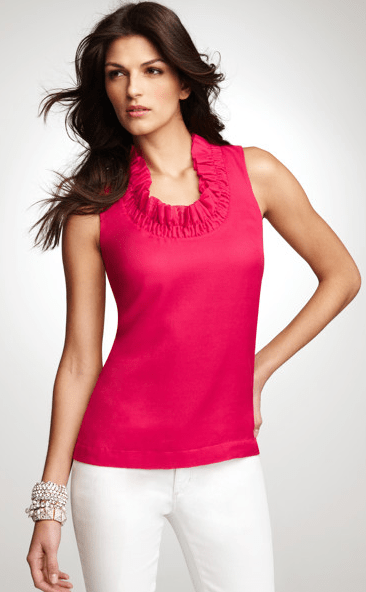 This Cotton/Silk Raindrop Print Shirt ($68) comes in the pink (pictured) and a black and white print that is now sold out online, and I stopped to look (and feel, and admire) both iterations in the store — it just strikes me as a gorgeous blouse for the summer.  I'd wear it with a pencil skirt and contrasting blazer, or perhaps belted with an A-line skirt.
4. Keep Warm:  Sometimes, the weather can be a wildcard. After it rains it can be much cooler than it was just a few moments ago, or if you're out later (or earlier) than your normal schedule, you might be surprised at how cold it is.  A  great addition to the summer bag is a whisper-weight scarf.  You can ball it it up (resulting in an artsier look when worn) or fold it (for a preppier look), but at the end of the day it takes up next to no space in your tote — yet you'll be so glad to have it if you need it. They also can be worn around your neck, with a blazer, if the air conditioning is really blazing inside your office.  (Tell me I'm not the only one who's had the "I'm wearing my office cardigan AND my office blazer and I'm still freezing" moment!)  All of the Ann Taylor scarves I've touched are nice and soft, also.

A scarf with a pattern can be a distinctive, memorable piece. I 'd wear this one with the purple sheath dress above, after hours, as a wrap at a cocktail party, or worn around my neck, with a blazer, during a cool morning.  Floral Print Luxe Scarf ($58)
5. Bonus "Stay Cool" Tip:  How to Cool Down Quickly. Finally, I don't know about you, but I hate it when I get to work and have to take five minutes to stop sweating from the summer heat. A great trick I learned years ago that I still swear by: go to the bathroom and run cold water on the inside of your wrists, or hold a cold can of soda on the inside of your wrists. I don't know why, but it really works!
This has been a sponsored post from Ann Taylor.