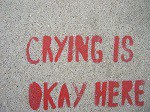 2017 Update: We still stand by this discussion of how to keep from crying at work — you may also want to check out our recent discussion of how to get a poker face at work. 
Reader S has an interesting question about how to keep from crying at work…
Recently, I posted to a so-called professional site discussing whether or not it was ok to cry at work. The person who started the thread claimed to be a Director who cried a lot at work. Since she cries at work, she wanted to know how other women felt about women crying at work. I shared that ironically, I had just returned from a recent Conference with 600 Attendees, where another attendee volunteered to help the Guest Speaker with a role playing exercise. And, how shocked and discomforted I was (as well as the Guest Speaker based on her initial reaction) when the volunteer started crying on stage during the second phase of the role playing exercise. Not only was the role playing exercise cut short as the Speaker attempted to comfort the volunteer, everyone present was left trying to determine what had happened to cause this woman to start crying. I responded that personally, I felt that crying in the work place was inappropriate as well as unprofessional. And, that women who cry at work, never make Partner, Attending, Director/CEO or get offered other advancement opportunities. Surprisingly, save for 2 males and 3 females including myself, most of the other repliers felt crying at work was ok. Even more surprising to me was the couple of responses which questioned whether or not I was female since they felt my reaction to the volunteer's crying on stage in front of 600 other attendees was cold-hearted and unsympathetic because I termed it a "display". One person snipped that just because she tended to cry at work, it did not mean she was not as capable as any man in her Department to which I responded that while crying was not indicative of ability, crying would prevent her from getting the opportunities to prove her ability. So, since we tend to discuss everything else that is work related here on Corporette.com, what are your opinions regard women crying in the workplace?
For the Corporette $.02: There really should not be crying in the office, unless it's out of joy. If you're frustrated, if you're sad, if you're angry — bottle it up until you can get to your office or, better yet, to your house. (
As Kelly Cutrone says,
if you have to cry, go outside.) 
(Pictured: Crying is okay here., originally uploaded to Flickr by A National Acrobat.)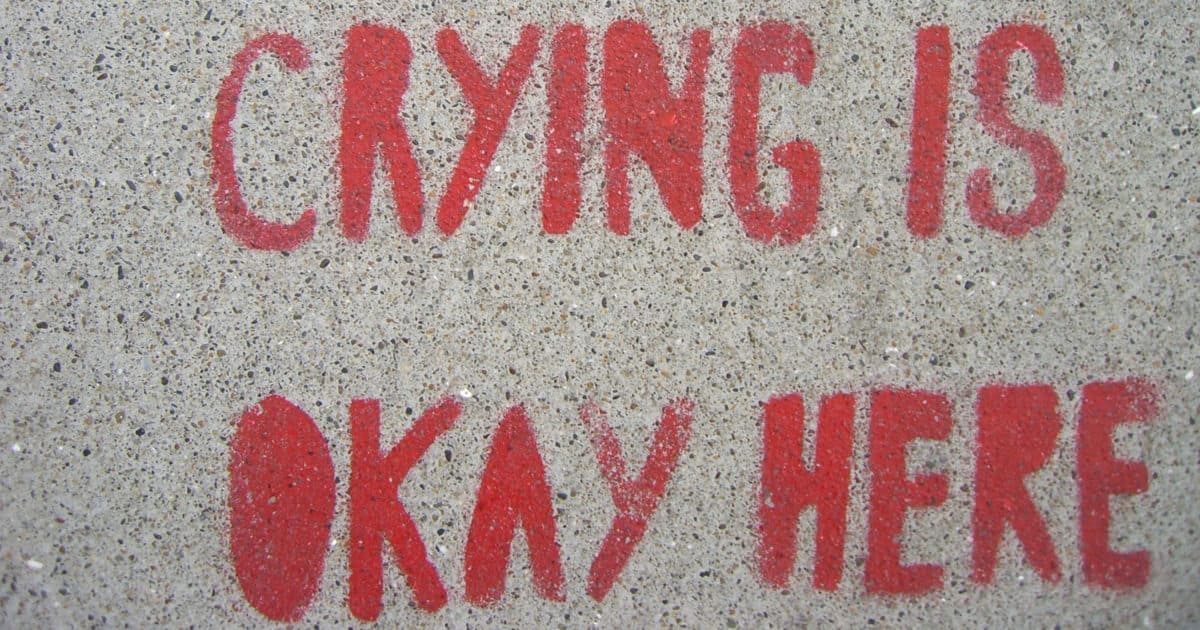 That said: I've cried at work, and absolutely hated myself the few times I did.
I felt like I lost points with my superiors, I felt like I looked weak, and I was disappointed with myself that I couldn't keep my cool. Keeping cool is a big part of being professional. The most notable time I remember crying was in NYC  one Friday morning, several Augusts ago. I remember the exact date because my best friend was married in London the next morning, and
I missed it
— I just couldn't find a flight that would get me to London in time for her morning wedding but also allow me to meet a pressing work deadline (document production). I had taken the news in stride at the time I'd asked my immediate boss and been denied — after all, my friend had thrown the wedding together quickly (a morning civil ceremony in London), and assured me that I didn't need to attend, and the deadline WAS important — but as I sat in that meeting, the day before my best friend was married, and we talked about the deadline, I found my mind completely and utterly focused on the terrible work/life balance I had. I was furious with myself for, apparently, selling my soul for so cheap a price, and I wondered how I could live with myself for missing my. best. friend's. wedding. For a document production. And then, in the meeting, my boss's boss asked if I'd managed to find a flight to London, and oh, what a pity. And before I knew it — with such little prompting as that — tears were welling up in my eyes. They were of fury and of self-pity and self-loathing — and the more I focused on keeping the tears at bay, the more they welled, and, finally, began spilling down my cheeks. I made no sound, and did my best to keep my head down and continue to take notes. And the meeting droned on, with no one saying a word. I wasn't entirely sure if it was because the person leading the meeting had poor eyesight — maybe she just didn't realize I was crying — or if she thought it best to carry on despite it — she was, after all, the one who had asked the question. At one point, in a break in the meeting, I said, "I'm just going to pop up to the bathroom and get some tissue," in a cheerful, I'm-trying-to-pull-myself-together-here-if-you-happened-to-have-noticed-that-I'm-silently-sobbing tone of voice, and the meeting leader said, in just as cheerful a voice, "Oh, I have some tissues here!" Great. GREAT. And the meeting went on, and we never spoke of it. You may say that this — missing your best.friend's.wedding for a work deadline — was an appropriate time to cry. Yet it really, really wasn't. The drama got the better of me, I let myself feel sorry for myself, and I felt like a fool afterwards. A good friend has since told me that the trick he uses, every time emotions threaten his control, is to sing the MacGyver theme song in his head. For what it's worth, once the crying is over and you're trying to walk the halls without red-rimmed, swollen eyes, I've also found that Visine helps (it gets the red out), as does the cold-water-on-the-wrists trick I mentioned earlier today. (And, of course, as the picture says, crying is always welcome here on this blog.)
Ladies — those of you who CAN keep your cool when emotions get the better of you — what are your tricks to keep your cool? What are your thoughts on crying in the office in the abstract? How do YOU keep from crying at work?
Pin image via Stencil.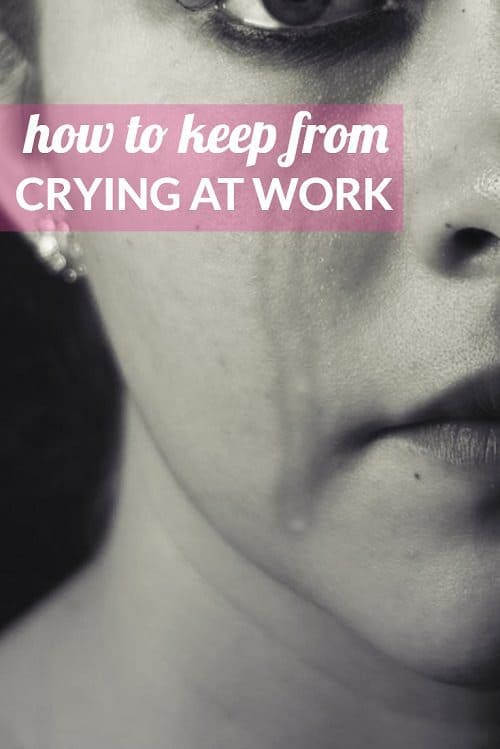 We are a participant in the Amazon Services LLC Associates Program, an affiliate advertising program designed to provide a means for us to earn fees by linking to Amazon.com and affiliated sites.