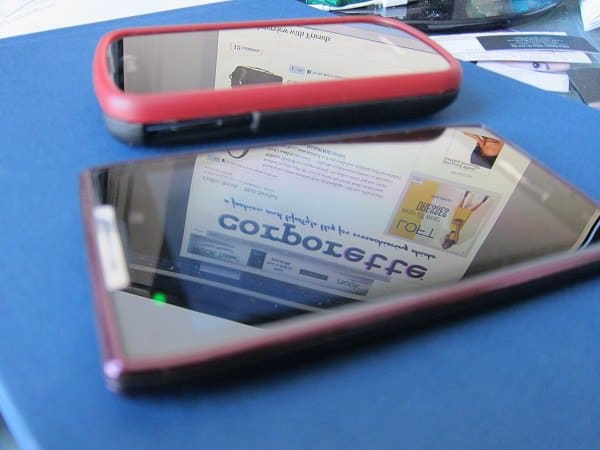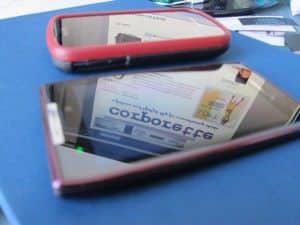 This post is sponsored by DROID RAZR by Motorola in collaboration with Style Coalition.
One of the perks of being a Style Coalition blogger is that I occasionally get to try new products, such as getting to try out the new DROID RAZR by Motorola in purple for a week or so. For starters (after I squealed about the deep purple color — fashionable without being too girly!), I couldn't believe how thin it was — my own beloved Android looks incredibly old by comparison! The other thing that immediately jumped out to m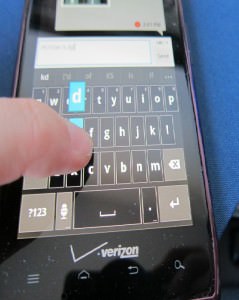 e was how clear and crisp the screen was, and how easy it was to type. (By comparison: my own phone's native keyboard inexplicably has the "English to Spanish" key right next to the spacebar, much to my annoyance — I was constantly accidentally switching to Spanish while texting someone. And as much as I want to like the Swype technology, it's ultimately just way too inaccurate, so I've recently started using the SwiftKey X app with my Android.)  The Razr has something much closer to the iPhone keyboard, though — big, clear, easy to tell which letter you've hit, etc.
By far the most impressive thing to me about the phone was the camera.  I take a lot of pictures (a lot of pictures) with my cell phone, and I loved that this one has a built-in flash.  As a total amateur when it comes to photographs, I even thought it took pictures in low-light situations better than my regular Canon camera would have.  For example, look at the Brooklyn Bridge at night (taken on one of my runs), or at my husband's and my martinis taken on one of our recent date nights.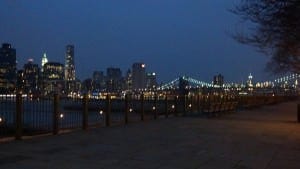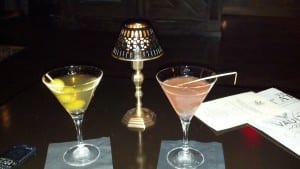 Oh, and the other thing I really liked was the battery power — it held a charge for much longer than my regular Android.  Now admittedly, I was using this one a lot less, and I had less applications and so forth running on it, but I still think there was at least one day where both phones started out with a full charge and primarily sat there for most of the day, and the Razr was much fuller than my regular phone by the end of the day.
I didn't do much for Fashion Week this season (honestly, I feel like I am only now coming out of the fog of new-mommydom now that we've hit the six month mark!), but as part of the promotion I was invited to the GLSEN Style Lounge, hosted by Elle and Motorola. It was great to see fashionistas of all sorts kicking back and relaxing, recharging their phones at the Motorola charging stations, and generally learning more about GLSEN's upcoming Day of Silence, encouraging teens to stop bullying.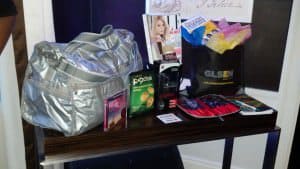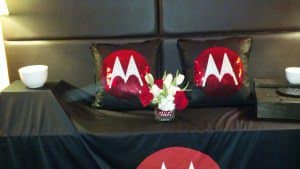 (In the spirit of full disclosure, because I only had the phone for a week I primarily played with the camera and the Twitter app I downloaded — but I really think through those you see some of the main things I look for in a phone, including good quality pictures, easy typing, and more. All pictures in this post — but for the two showing the phone itself! — were taken with the Razr.)
Readers, what type of phone do you have?  What are the essential things to you for a good phone, either from a work or play perspective?
Disclosure: In addition to getting a phone to play with for a week, I am also receiving monetary compensation for this sponsorship.