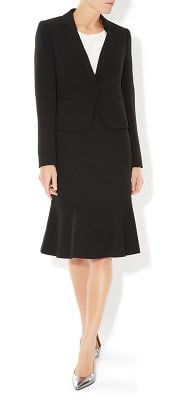 For busy working women, the suit is often the easiest outfit to throw on in the morning. In general, this feature is not about interview suits for women, which should be as classic and basic as you get — instead, this feature is about the slightly different suit that is fashionable, yet professional.
Since a reader mentioned British retailer Hobbs's new US website, I've been checking in, and I was excited to see that a lot of great work-appropriate pieces are on sale.  (Be sure to click the little flag on the top right hand corner to see the correct currency; you don't want to get overly excited unless you're looking at the right one!)  The black "Invitation Julietta" suiting stood out to me — it looks classic, clean, professional, and generally great.  The Julietta Dress particularly caught my eye — it comes in both white and beige versions (both pictured below) — it's normally $385 but comes down to $240 in the sale.  The matching jacket (Invitation Julietta Jacket) is normally $345, but comes to $230, the matching skirt (Invitation Julietta Skirt) comes from $195 down to $105, and the matching pants (not pictured) (Invitation Julietta Pants) come from $210 down to $115.
Here's a similar plus-size option (jacket and skirt — and some pieces in the set are part of Amazon's great sale that lets you take an additional 30% off last minute gifts), and a budget-friendly option.
ADMIN UPDATE: Some readers are reporting seeing a video that starts playing immediately once you visit the site. If anyone can tell me what the ad is for, and where it is on the page (above the logo? right below the logo? between the 1st and 2d post? near the bottom of the page?) that would be hugely appreciated — we need that info to investigate the situation and make it stop.  Thank you in advance!