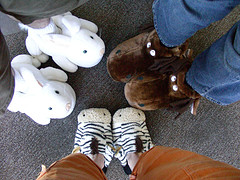 2017 Update: We still stand by this advice on professionalism in a laid back office, but you may want to check out The Ultimate Guide to Business Casual for Women.
Reader M wonders about professionalism in a laid back office:
I was wondering if you could do a piece regarding how to stay professionally dressed in an office that is very laid-back. I just graduated from college and have found my dream job doing public relations and social media for a small but fast growing company. The owner/president wears PFG shirts and shorts to work everyday. The sales and customer service girls I work with wear Lilly shorts or jeans with cute tops and sandals or sometimes wedges. My previous internships were much more corporate so I have a collection of black dress pants, button down tops and blazers. I'm not sure how to transition to a less corporate environment without falling into a jeans and t-shirt habit! Help?!
I think it's important to note that professionalism is not just about how you look, but how you act. I've known some incredibly professionally-dressed people who were complete disasters to work with, and I've known some non-professionally dressed people who were first-rate at what they did. That said, it's an interesting question, and I'm curious to hear what the readers say.  (Pictured above: Office footwear, originally uploaded to Flickr by emmavn.) [Read more…]