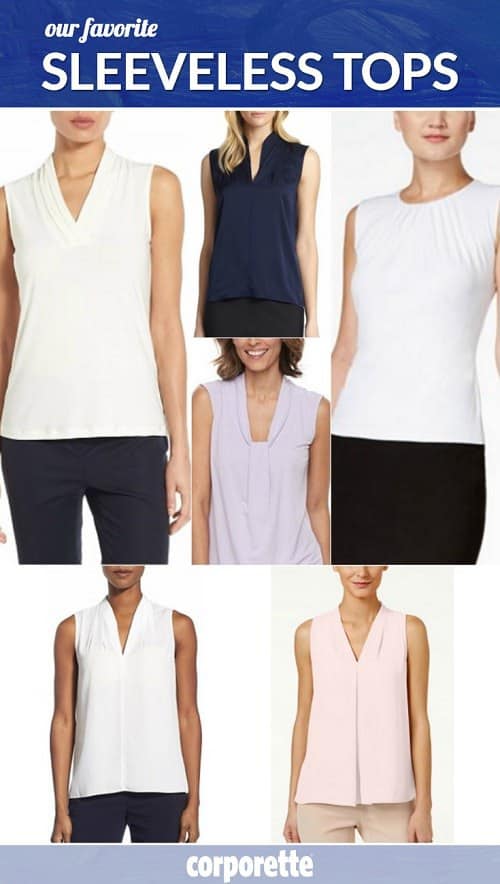 Sure, we all know what wardrobe essentials for work professional women are supposed to have in their closets, but if you're buying one for the first time or replacing one you've worn into the ground, it can be a pain to find exactly the right incarnation in stores. In "The Hunt," we search the stores for a basic item that every woman should have.
Sleeveless tops are a basic in every woman's work wardrobe — but which ones are the best? These are some of the best-selling styles we've mentioned in the past, all rounded up in one place — I'd love to hear your favorites that aren't included here. As I've noted in the past, these aren't necessarily my favorite tops to wear under blazers or other dry-clean-only clothes — call me a weirdo, but I like to have sleeves (even short sleeves) to better separate my body from the clothes that need expensive cleaning. (You may want to check out our post on the best tees for layering if that sounds more like your speed.) That said… a sleeveless top is much better for layering and creating clean lines beneath cardigans and blazers. I like that all of these tops cover the bra strap entirely; they also have pretty high arm holes and relatively high necklines — they're very different from camisoles we've featured in the past. (As we've cautioned in the past, know your office — sleeveless looks aren't always considered professional or conservative enough by themselves; only layered beneath things.)
Readers,  which are your favorite sleeveless tops for work — and how do you wear them? What's  your preferred price range (most of these are under $50!) — and where do you buy your sleeveless tops? 
See our roundup, after the jump…