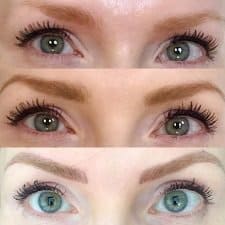 Adina J. of Blue Collar Red Lipstick is one of my favorite work style bloggers and Instagrammers (and she's a lawyer!) so I was excited to see that a) she'd written about her experience with microblading on her blog and then b) agreed to share it with us since I knew a lot of people were curious about whether microblading was worth it after our post on beauty treatments to save time.  Readers, have you tried microblading, or are you considering it? Have you used other things to enhance your brows, like growth serums or brow tinting (either salon or DIY methods)? HUGE thanks to Adina for sharing her microblading experience with us — and a warm welcome to Corporette! — Kat  
If you have more than a passing acquaintance with Instagram, then you have probably seen something about #microblading. And if you are anything like me — 30-something, with enough disposable income to satisfy my social media–driven curiosity about strange beauty trends — then you've probably considered trying it. If that's the case, you probably have questions. I know I did. Having now gone through the experience, I can tell you that the answers I found online in my initial searches contained some glaring omissions. I'm going to try to address some of them.
Just in case you have not seen one of the bazillion Instagram videos floating around, let's start with the basics. Microblading is the newest version of tattoo makeup. Unlike the regular tattoo process, which uses a needle (or needles), microblading uses tiny blades to create cuts in the skin, into which pigment is deposited. Each cut is intended to look like an individual eyebrow hair. The result is semi-permanent, lasting anywhere from one to three years. It is not an inexpensive procedure; at my spa, the cost was $375 for the original appointment plus the necessary follow-up, and this is on the lower end of the cost scale based on quotes I've seen online (for example, Piret Aava, the "Eyebrow Doctor," charges $1,500 in NYC).