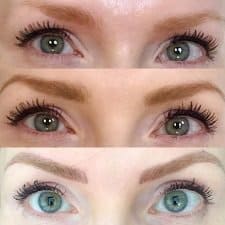 Adina J. of Blue Collar Red Lipstick is one of my favorite work style bloggers and Instagrammers (and she's a lawyer!) so I was excited to see that a) she'd written about her experience with microblading on her blog and then b) agreed to share it with us since I knew a lot of people were curious about whether microblading was worth it after our post on beauty treatments to save time.  Readers, have you tried microblading, or are you considering it? Have you used other things to enhance your brows, like growth serums or brow tinting (either salon or DIY methods)? HUGE thanks to Adina for sharing her microblading experience with us — and a warm welcome to Corporette! — Kat  
If you have more than a passing acquaintance with Instagram, then you have probably seen something about #microblading. And if you are anything like me — 30-something, with enough disposable income to satisfy my social media–driven curiosity about strange beauty trends — then you've probably considered trying it. If that's the case, you probably have questions. I know I did. Having now gone through the experience, I can tell you that the answers I found online in my initial searches contained some glaring omissions. I'm going to try to address some of them.
Just in case you have not seen one of the bazillion Instagram videos floating around, let's start with the basics. Microblading is the newest version of tattoo makeup. Unlike the regular tattoo process, which uses a needle (or needles), microblading uses tiny blades to create cuts in the skin, into which pigment is deposited. Each cut is intended to look like an individual eyebrow hair. The result is semi-permanent, lasting anywhere from one to three years. It is not an inexpensive procedure; at my spa, the cost was $375 for the original appointment plus the necessary follow-up, and this is on the lower end of the cost scale based on quotes I've seen online (for example, Piret Aava, the "Eyebrow Doctor," charges $1,500 in NYC).
Now, a bit about me. I am very, very fair with very, very blonde eyebrows and eyelashes. As far as my eyebrows go, their relative (in)visibility is not helped by the over-plucking sins of my youth. I have been penciling in my eyebrows for as long as I can remember, and it might be surprising to some — those blessed with perfectly abundant, visible, and well-behaved eyebrows — how much of a hassle it is and how awful it feels to look in the bathroom mirror one afternoon and realize that you have been walking around the office for God knows how long with half an eyebrow missing. Those of you who know that pain should not be surprised to hear that I jumped on the microblading train as soon as I discovered that the spa attached to my dermatologist's office offered the service. I recommend choosing qualifications over price when you're shopping around for a microblading procedure; you're going to be wearing the results on your face for some time, and there is plenty of room for error, as some of the online "after" photos prove.
Microblading: First Appointment
Here is what you should know about the procedure. At the first appointment, the aesthetician measures and sketches your "new" eyebrows to ensure they are symmetrical and suit your face. Next, they select the best colour of pigment for your complexion. This was my biggest issue with microblading, and I will come back to it in a moment. After the eyebrow region is numbed with topical numbing cream, the microblading begins. It takes about 1–1.5 hours for the blading part, including the bit where you sit with pigment on your face, looking like one of the lost Marx brothers. In total, the entire first appointment took about 3.5 hours. I found the pain to be quite tolerable — akin to eyebrow threading, for example — but this is a very subjective judgment, of course. The photo below shows: (1) before, without makeup, (2) before, with makeup, and (3) immediately after my first appointment.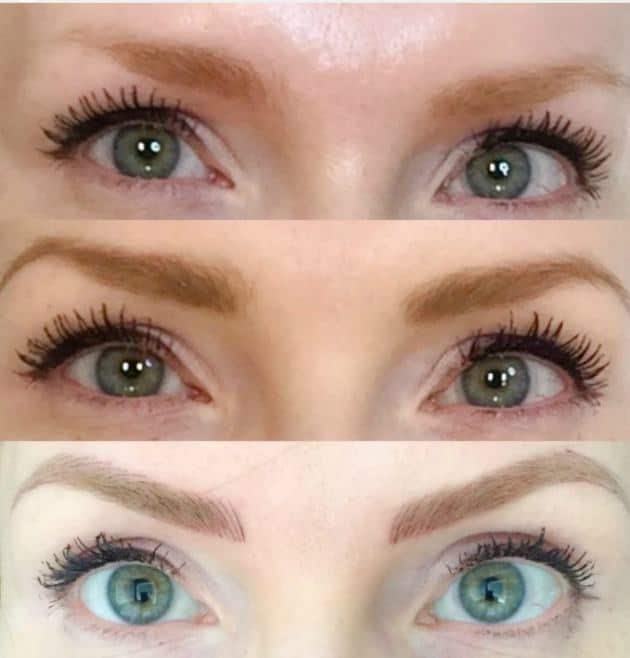 Healing Process for Microblading
My eyebrows looked fantastic immediately after the procedure was over; there was no real recovery time. The skin around my eyebrows was a little bit red immediately after, but nothing that would, ahem, raise an eyebrow at work. It wasn't until four to five days into the healing process that I began to understand why microblading is a two-step process. As the skin underneath my eyebrows began to flake off (which is a normal part of healing), a substantial amount of the pigment came off with it. The flaking itself wasn't painful or particularly noticeable; the ointment I was given to apply regularly following the initial two-day dry-healing process helped keep my eyebrows from looking too rough during this period.
I had been warned to expect some colour fading following the initial appointment, but what I actually experienced was more significant than what I had anticipated. After about two weeks, my eyebrows were at least 70% lighter than immediately after the original procedure; in fact, they did not look significantly different than prior to the microblading. I spoke with my aesthetician, who assured me this was normal and that it would be fixed at my follow-up appointment. Still, it is something to keep in mind; once the flaking was done and my skin looked to be back to normal, I started using an eyebrow pencil to fill in some of the more obvious "blanks."
Follow-up Appointment
The procedure at the second appointment was very similar to the first, though it took less time overall — about 2.5 hours. I did tell the aesthetician at that time that I preferred darker eyebrows, and she switched my pigment from a mix of light and medium ash brown, to medium ash brown only. However, she was reluctant to go any darker because of my fairness, and given that she would have no way of fixing overly dark results, I didn't press the issue, though in retrospect, I wish I had. As before, my eyebrows looked great immediately following the procedure, with no real downtime. The healing process was also faster and resulted in much less pigment loss.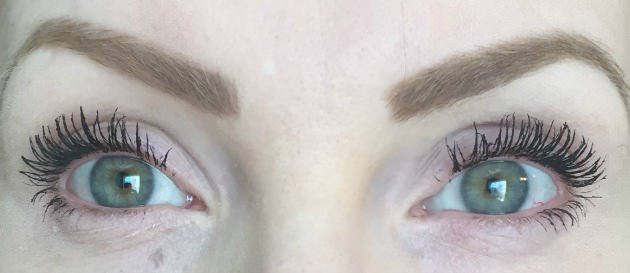 I am generally quite happy with my ultimate results — the photo above was taken two months after my second appointment — but I do wish my eyebrows were a tad darker. I do touch up the ends a tiny bit with an eyebrow pencil most days to make them stand out a little more. Even so, the procedure has cut down on my daily eyebrow-tending time, which is a considerable bonus for a busy working parent. Moreover, it has ensured that I have nice, symmetrical eyebrows all day, every day, and it makes maintenance (plucking, threading) much easier by giving me a good template from which to work. It remains to be seen how long the results will last; my skin tends to heal Wolverine-fast, so I have a feeling these eyebrows won't "stick" around for the full three years. However, if I can get even a couple of years out of it, I'm ready to call microblading a success.
Have you had your brows microbladed, or are you looking into having it done? Do you know someone who's had a good or bad experience with it? If you've had it done yourself, was your experience similar to Adina's, and were you happy with the results? How long did they last? Would you do it again? Any advice to share with other readers?