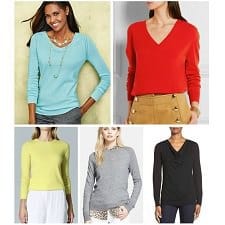 2017 Update: Check out our latest discussion of the most affordable cashmere for work!
Sure, we all know what basics professional women are supposed to have in their closets, but if you're buying one for the first time or replacing one you've worn into the ground, it can be a pain to find exactly the right incarnation in stores. In "The Hunt," we search the stores for a basic item that every woman should have.
Ladies, we haven't talked about the most stylish cashmere sweaters for work in far too long — and now is a great time to buy because there are so many sales on.  Which brands are you loving this year in terms of style, softness, durability, and more?  (Do check out our guide to cardigans for work, if you haven't already!) Have you gotten any great deals on any cashmere lately? Which cashmere brand do you like to splurge on? 
If you're curious, here are links to our prior roundups of the best cashmere sweaters for the office: 2015, 2014, 2012. Before we start, a few special interest categories: