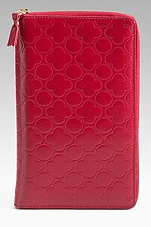 2014 update: you may want to check out our latest discussion of emergency funds.
We noticed that our post on savings seemed to be a popular one, so we thought we'd start another discussion on money and investing. Today we're wondering, dear readers, about your emergency funds: how did you calculate the amount, how do you store it, and how often do you reevaluate the amount and the storage situation? (Pictured: Comme des Garcons Large Zip-Around Wallet, available at Saks.com for $325.)
A caveat, at the beginning: we are not experts in financial advice.
The emergency fund, though, is one of those basic topics that you read about. If you're in debt, they say, save for your emergency fund first, and then begin paying off debt. If you're not in debt, they say, save for your emergency fund — and keep it liquid — before you start investing in the market. The emergency fund is supposed to be there as a a cushion in case you or your spouse lose your job, or if some other emergency comes up, such as medical needs or a car accident.
OK, so, fine — great.  But how much is it? Some say to figure out six months of living expenses — your mortgage or rent, your school loans, your basic food and living needs — and to bank that. Others say to figure out what your salary is for six months (the higher of two, if there are two) and just save that amount. (We're guessing the after-tax amount?)  Which calculation do you use? In the recession, have you tried to build up more than six months of living expenses? (We have a few good friends who've been out of work for more than six months, so it isn't the worst idea.)
Once you have it, where do you stash it? It should be fairly liquid, so the stock market isn't the right place for it. But do you go for a high-interest savings account? Do you have them in rolling treasury bills? Do you put them in a series of 6-month CDs, designed to give you access to some of your cash once every month or so? We always used to have them in Schwab money market funds — which at one point had an interest rate as high as 7%, we believe — but it's now gone down to a sub-one percent interest. We've recently found a savings account (using the tools described in this recent NYT blog column) that had about 1.8% interest (through Capitol One), but that's already down to 1.60%. We suppose this raises another question:  How often do you reevaluate your savings vehicle?

Another option for the emergency fund is cash — we've heard tales of people burying up to $10K in cash in their backyard in order to have quick access to it should there be some catastrophe in which banks and so forth are not working — does anyone do that?
There are no right answers here, and we're curious as much as you guys. What's your take on the emergency fund?