2017 Update: We still think a lot of these are the best knee-high boots for commuting to work — but you may also want to check out our most recent thoughts on what boots to wear with tights to work.
Sure, we all know what basics professional women are supposed to have in their closets, but if you're buying one for the first time or replacing one you've worn into the ground, it can be a pain to find exactly the right incarnation in stores. In "The Hunt," we search the stores for a basic item that every woman should have. Today's hunt: the best knee-high boots for commuting, work, or more.
As work-appropriate booties have surged in popularity, we recognize that knee-high boots aren't as strong a trend as they once were — still, I see a ton of women still wearing them, and I repeatedly see readers noting that they prefer knee-high boots for their lifestyle (or just for general personal style reasons). I mostly see women commuting in them and wearing them with skinny jeans on the weekend, so I thought I'd focus this Hunt on flat, low-heeled styles. An important caveat: I see a lot of women swearing by flat over-the-knee boots for commuting, but OTK boots are solidly in "know your office" territory — in our last poll most women didn't think they were appropriate for their offices. If you are on the hunt for an OTK boot, I'd either go low (very inexpensive, like this $38 pair) or high (do the classic Weitzman OTK boot) and call it a day — or make an actual trip to the store to find a good OTK boot somewhere between those two.
As we've noted in our past roundups of flat knee-high boots for work, watch out for slouchy boots, heavy treads, or Western influences — and if you intend to wear them the entire day at the office, make sure your outfit is intentional (and not that "I never got around to changing my commuting boots" look).
First, some specialty styles to include in our roundup of the best knee-high boots for commuting, work, and beyond:
Pictured below: some of our Hall of Fame boots — the best-selling styles that have been around and loved for years!
Pictured above: one / two / three
Curious about our older roundups? Here are links to 2015, 2014, 2013, and 2012 — and our last discussion on whether knee-high boots are appropriate for the office. (Do you still think this is a question at all, ladies?)
Today's featured knee-high boots for commuting or work include: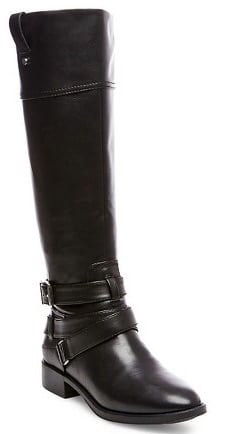 Oooh: I don't think I've ever seen such a highly rated, yet affordable boot. This is winning rave reviews over at Target, comes in black and brown, sizes 6-11 (PLUS wide calf sizes too!) and is a mere $39.99. Nice. In some of the pictures it does look like a really wide boot shaft on the model, and the buckle probably puts it firmly in the "casual day" camp, but if you don't want to spend a lot on a knee-high boot, this boot may be the one for you. Merona Adelle Riding Boot
I like the interesting dipped back in these suede boots from Steven, the "grown-up" brand from Steve Madden. I've had pretty good luck with suede waterproofing sprays like this one, but I'd still try to avoid going out in the rain in these. They're $178 at Zappos and ShopBop. (Oooh: and ShopBop has 30% off the black, and 89.50 off the dark brown — but lucky sizes only.) Note that if you're looking for a little bit of height, this Steven wedge boot (which we first sang the praises of back in 2012!) is still one of their best-sellers and is 25% off now, bringing it down to $112. Pictured: Steven Emmery Tall Boots
I like the quilted leather on the back of these Cole Haan boots, and I think they look generally sleek. I also love a good deal: they were $300, but are now marked 33% off to $199. Cole Haan Elverton Knee High Boot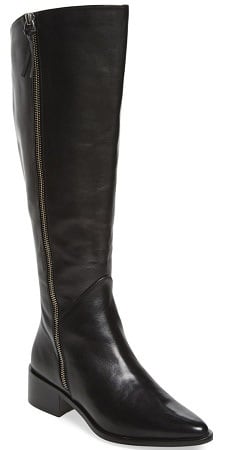 I have such mixed feelings about pointy toes — as a fashion blogger I fully admit that they will make every single thing you wear look more polished — but as someone with fussy feet I blame my years of pointy-toe shoe wearing for some problems now. Still: if you don't have foot problems now (and they don't run in your family), you may want to consider these. They're $240 at Nordstrom (where they note that they have narrow calf circumference and run small). Linea Paolo Heaven Tall Boot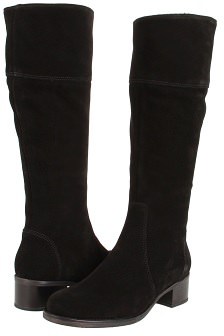 Wow: These boots have 406 reviews and a solid five-star rating at Zappos. They're expensive, to be sure, but they're also waterproof and simple classics. They're available in sizes 5-12, in regular and wide sizes. La Canadienne Passion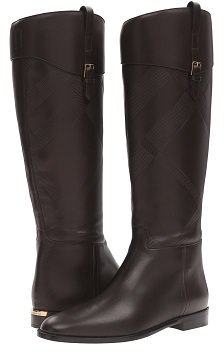 Oh, my — these Burberry boots are lovely, and I kind of like the "dark brown boot with black tight" look (I think of it as being very British for some reason). These are bestsellers over at Bloomingdale's, but they're nearly sold out so we're lucky they're still at Zappos Luxury for $1,095. Interestingly, if you like the Burberry look but not the price — and you mostly want something for a commute in bad weather — you may want to consider this $375 Burberry boot with a synthetic upper. Pictured: Burberry Copse
Ladies, which are your favorite knee-high boots for commuting, work, or beyond? How do you feel about them in 2017 — are they at all questionable for work? Outdated? Which are your favorite styles and brands?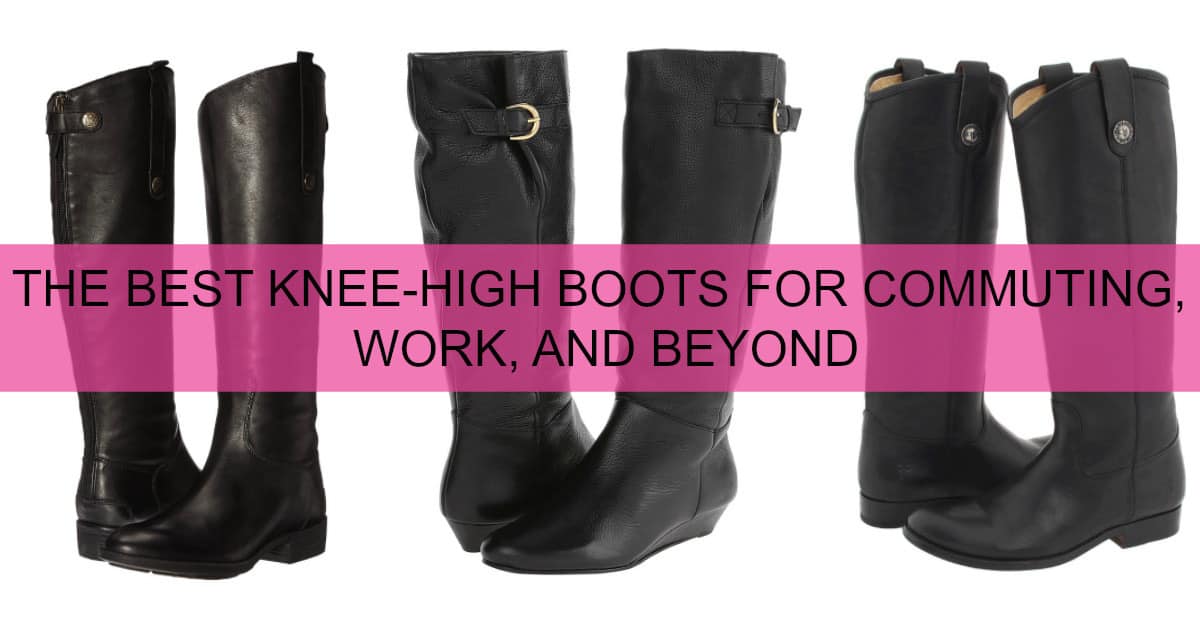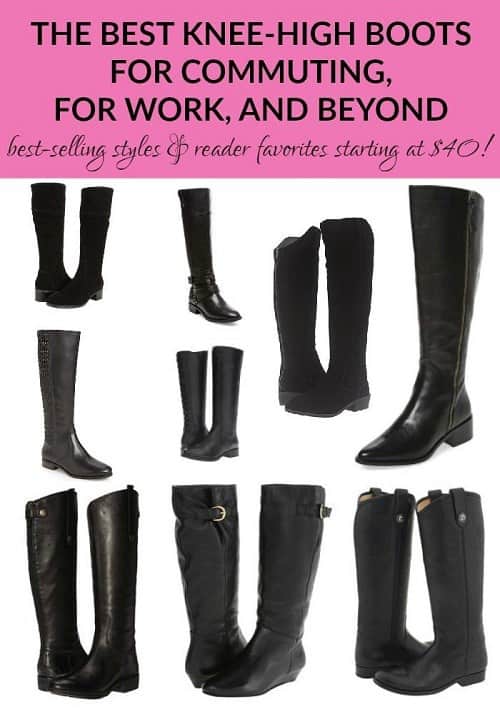 Like this feature? Check out other recent installments!