December 2021 Update: The Nordstrom Half-Yearly Sale just started! (And we'll let you know more details about the 2022 Nordstrom Anniversary Sale as soon as we do! Unfamiliar with the NAS? Check out this page for more info on why it's the best sale of the year.) Sign up for our newsletter to stay on top of all the major workwear sales, or check out our roundup of the latest sales on workwear!
The below content is about the 2010 Nordstrom Anniversary Sale.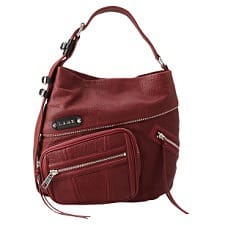 Something on your mind? Chat about it here.
This weekend, we're loving this great L.A.M.B. hobo (part of the Anniversary Sale at Nordstrom). It's the perfect red, and the angled pockets, open zipper teeth, and zipper tassles give it an edgy, almost rock-and-roll look. Love it! It's currently $239 (but the price will go back to $368 after the sale ends). L.A.M.B. 'Corsaire Seville' Hobo