Liking these posts? Follow us on Twitter or fan us on Facebook — this is the edited version of what we're reading! (We also Tweet if we hear about a good sale.)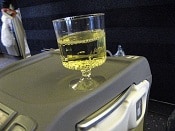 – Jauntsetter suggests ways to add some first-class glamour to your next trip in coach. (Pictured: so they bumped me up to business class, originally uploaded to Flickr by holycalamity.)
– The WSJ's The Juggle ponders the trade-offs and choices that working mothers make to juggle career, family, and self.
– For all you job-seekers out there – the WSJ advises how to write a good cover letter to go with your resume.
– We got an e-mail from Accounting Degree telling us that we were listed as one of their Top 100 Blogs for women in business — thank you, Accounting Degree! It's a pretty great round-up — obviously, they have great taste! ;)
– Jeri's Organizing & Decluttering News reviews The Hamster Revolution: How to Manage Your Email Before It Manages You.