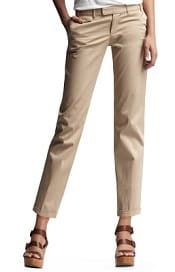 Liking these posts? Follow us on Twitter or like us on Facebook — this is the edited version of what we're reading! (We also Tweet if we hear about a good sale through our CorporetteDeals Twitter feed.)
– The NYT wonders how a pair of khakis can cost $550. (We haven't worn khakis in a while, but would probably just head to the Gap if we were looking for a pair. Pictured:  Slim cropped khaki pants, available at Gap.com
in regular, petites and talls for $49.50.)
– A great article in Real Simple discusses the "numbers to live by" — what number your blood pressure should be, your cholesterol, and so forth.
– The NYT investigates whether women need different financial advice than men.
– For all of those out there conducting interviews, the WSJ has some interesting interview questions for you to ask. (Jobseekers, we'd also suggest you read the article, to think about how you might answer the Qs!)
– Finally, Facebook recently made a lot of changes to its privacy policies. We recommend two articles:  How to Delete Facebook Applications (and Why You Should), as well as one on How to Opt Out of Facebook's Instant Personalization.
Many thanks to this week's advertisers:
– AK Anne Klein
– Carissa Rose
– MySkins
– MyDesignGuide.com
– As well as our advertisers through BlogAds!