Like these posts? Follow us on Twitter or Facebook — this is the edited version of what we're reading! (We also Tweet if we hear about a good sale through our CorporetteDeals Twitter feed.) You can also follow us on Pinterest.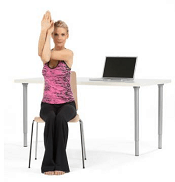 – Pinterest find of the week: Working Mother has a roundup of yoga poses you can do at the office.
– The NYT reports that low-heeled shoes are hot for spring.
– SheFinds collects a bunch of non-leather moto jackets.
– POPSUGAR Smart Living rounds up a bunch of cool life hacks.
– Jezebel takes an amusing look at a recent Slate article advising men how to shake hands with women.
– HungryGirl suggests some easy ways to diet at the office.
Did we miss anything? Add 'em here, or send them to [email protected] Thank you!