Liking these posts? Follow us on Twitter or like us on Facebook — this is the edited version of what we're reading! (We also Tweet if we hear about a good sale through our CorporetteDeals Twitter feed.)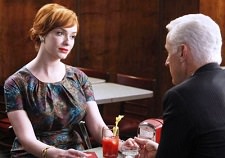 – The Careerist, who previously scoffed at a study that suggested senior men avoid sponsorship/mentorship roles with younger women to avoid the perception of illicit relationships, now reports in with some real emails she got from men who make a policy to avoid women for just that reason. Joy. Meanwhile: Working Mother has a great article on the differences between sponsorship, mentorship, career counseling, affinity groups, and more.  (I can't find it online, but the Feb/March issue also looks at the top 50 companies that have institutionalized sponsorship and more successfully.)
– Over at CapHillStyle, Belle wonders how to tell a staffer her skirt is too short.
– YouLookFab reviews a guide to buying pearls.
– WSJ's The Juggle looks at a study that suggests that paternity leave hurts women — because men use the time to advance their careers instead of doing child care.
– Great on the Job advises interns on the proper way to ask for feedback (and actually get it).
– Wisebread rounds up 6 ways to get more done on airplanes.  Meanwhile, Extra Petite does some of the most minimalist packing I've ever seen for business travel.  Oh, and Forbes Woman has tips for traveling (for fun) as a single lady.
– Interesting:  if anyone is thinking of applying to Harvard Business School, the WSJ has a profile of Dee Leopold, the woman you'll have to go through to get in.
– Savvy Sugar looks at 5 systems for getting stuff done.
Did we miss anything? Add 'em here, or send them to [email protected] Thank you!