Liking these posts? Follow us on Twitter or like us on Facebook — this is the edited version of what we're reading! (We also Tweet if we hear about a good sale through our CorporetteDeals Twitter feed.) You can also follow us on Pinterest.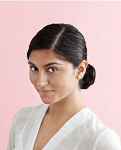 – Refinery29 rounds up three ways to style wet hair that actually are kind of cute. Meanwhile, Design*Sponge collects some gorgeous art scarves.
– If you haven't seen it on Facebook already, UniteWomen.org pulled out a great quote by Hilary Clinton rebuffing an interviewer from Kyrgyzstan attempt to ask her about her favorite designers, responding, "Would you ask a man that question?"  Boston Review links back to the original interview on State.gov.
– Marie Claire has an "Alpha Girl Cheat Sheet" with some advice on navigating tricky situations.
– The Careerist reports on the BigLaw interview process.
– The WSJ advises how to handle a "screamer" for a boss.  (Yep.  Had my share of those.) Savvy Sugar recommends how to have a work/life balance.
– ProBlogger suggests three exercises to do at your desk to "avoid becoming chair shaped."
Did we miss anything? Add 'em here, or send them to [email protected] Thank you!