Like these posts? Follow us on Twitter or Facebook — this is the edited version of what we're reading! (We also Tweet if we hear about a good sale through our CorporetteDeals Twitter feed.) You can also follow us on Pinterest.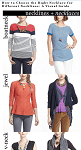 – The Budget Babe has a great guide to help you decide which necklaces to wear with which necklines.
– Hourglassy ponders what basics full-busted women should have to start work.
– Capitol Hill Style shows you how to wear a campaign tee differently for a fundraiser versus doorbelling.
– Evil HR Lady posts at CBS's Money Watch about how online job searches worsen the job crisis.  Meanwhile, Ask a Manger wonders if it's ever appropriate to reach out to a hiring manager — before applying to a job.
– The WSJ suggests some ways to destress from the office.  Meanwhile, readers are talking about this essay in the NYT about letting your career passion follow you.
– The Careerist gives three cheers for women who curse like sailors.  (It reminds me of this SomeECards that I saw on Pinterest.)
– Savvy Sugar rounds up productivity hacks from a start-up founder.
– Finally: NPR tells you how to avoid getting ripped off at the ATM.
Did we miss anything? Add 'em here, or send them to [email protected] Thank you!