Like these posts? Follow us on Twitter or Facebook — this is the edited version of what we're reading! (We also Tweet if we hear about a good sale through our CorporetteDeals Twitter feed.) You can also follow us on Pinterest.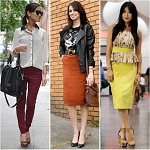 – Savvy Sugar has some street style looks to steal for work.
– Forbes has some interesting thoughts on why millennial women are burning out of work by age 30 (with some killer quotes from Kelly Cutrone).
– The Careerist tells you how to kill your inner valley girl.
– The Boston Herald looks at a new start-up, Zero Bound, that helps people relieve student loan debt through volunteer work.
– Real Simple rounds up some of their most-Pinned problem solvers.
– Thanks to The Grindstone for quoting me in article about wearing fur at the office, and to The Financial Times for quoting me in an article about fashion bloggers.
Did we miss anything? Add 'em here, or send them to [email protected] Thank you!