Like these posts? Follow us on Twitter or Facebook — this is the edited version of what we're reading! (We also Tweet if we hear about a good sale through our CorporetteDeals Twitter feed.) You can also follow us on Pinterest.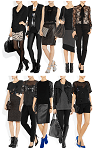 – Angie at You Look Fab explains why she likes an "almost all black" look better than an all black one.
– Shopping's My Cardio shares her thoughts on how to work a mid-season sale.
– The Careerist reports on a new study that says popularity in high school is a predictor of your future salary (more popular kids get higher salaries).  Hmmn.
– Ask a Manager ponders how to shut down pregnancy rumors in a small office.
– Mashable tells you how to get hired in thirty days (or less), while Savvy Sugar has thoughts on how to work from home when you have to.
– Refinery29 has some fixes for insomnia.
– Finally: Belle at Capitol Hill Style has a pretty good roundup of places to donate, if you care to, for hurricane victims.
Did we miss anything? Add 'em here, or send them to [email protected] Thank you!