Liking these posts? Follow us on Twitter or fan us on Facebook — this is the edited version of what we're reading! (We also Tweet if we hear about a good sale.)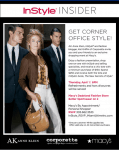 – As we may have mentioned, we'll be heading to Miami this Thursday night (!) to help host an event at the Dadeland Macy's with AK Anne Klein and InStyle. We're so excited!! Posting will continue throughout the week, but we thought we'd do the weekly round-up today instead of Friday. If you're near Miami, please come out and join us — you can RSVP by calling 305.662.3533, or e-mailing RSVP_InStyle_Miami@timeinc.com.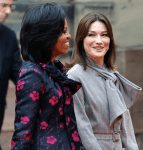 – Robin Givhan of the Washington Post has some thoughts on whether the fashion choices of Michelle Obama and Carla Bruni-Sarkozy are an "international wedge issue."
– Zen Habits has some suggestions on how to simplify your workday.
– The good folks at the WSJ's The Juggle ponder whether one should hire a CPA or go it alone for tax time. (Our $.02.:  The only thing we got out of our tax law class was that there are a gazillion rules and exceptions to the Code. Thus: We've been happy with our CPA for the past 7 or 8 years.)
– Lifehacker seeks to perfect that mythical creature: the power nap.
Many thanks to this week's advertisers:
– AK Anne Klein
– Carissa Rose
– MySkins