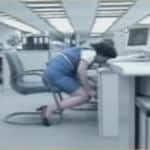 – The ChicagoTrib looks at the prevalence of sleep problems in today's society. If you're having trouble sleeping, we recommend working out in the morning, not drinking caffeine after 3 PM, and avoiding thoughts about work/career issues before bedtime.
– Oldie but still relevant: WSJ's The Juggle has lots of good links to old articles about how neglecting your appearance may negatively affect your career.
– Oprah Magazine and Jezebel explore one of the primary dangers of the office bathroom: the Tinkler.
– WowOwow has lots of excerpts from Cokie Roberts' new book on the First Ladies.
– NYT has an article about how, for a mere $156,000, you can buy a share to an apartment in Paris for one month a year. We don't think this is such a bad idea, but then again, we also can't imagine being able to get away from the office for a full month, so we're thinking of this more as a 1/22nd share in a Paris apartment.
– The secret to succeeding in the law for women lawyers is, apparently, a deep love of practicing law. [Ms. J.D., New York magazine: Women Leaders in the Law. ]
– Drool, drool, drool: The World's Most Dazzling Royal Jewels. We've bought right-hand rings and diamond earrings before, but these are stunning. [Forbes]
– Totally unrelated to business or fashion, but if you are as big of a Buffy fan as we are then enjoy: interview with Joss Whedon about his new project, starring Eliza Dushku. [LA Times]