Liking these posts? Follow Corporette on Twitter — this is the edited version of what we're reading! (We also Tweet if we hear about a good sale.)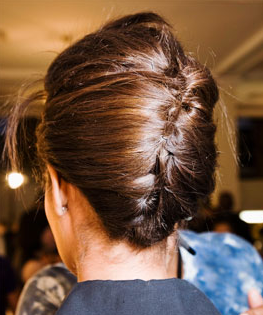 – Glamour rounds up some new ideas for hairstyles for the summer. Some are work appropriate; some not; we're digging the double French twist (pictured at left).
– Ms. JD wonders whether dressing up improves productivity. We're not sure about that, but we're pretty sure we'd be annoyed at a boss who decreed Fridays to be "High Heel Fridays."
– If you twirl your hair, stand with your arms crossed, or crouch for the company photo, Forbes Woman has some advice for you on which body language behaviors to avoid.
– E*Trade or Schwab? SmartMoney hunts for the answers, reviewing all the e-brokers.
– WiseBread has some great tips on how to conduct a successful informational interview.