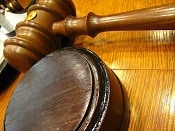 Reader H writes in with some questions about a mock trial competition coming up…
I'm a 1L participating in my first mock trial competition for my school. It's in Las Vegas the first weekend in March. Not only do I
have to dress to compete, but for a welcome reception the night before the competition. Typically, I feel confident in my ability to dress appropriately for the occasion. However, I'm uneasy about dressing correctly in this situation. I just bought my very first suit, but I'm not sure what to wear with it. What are the rules for dressing at mock trial? Do I have to wear nylons — particularly in a hot climate? And if so, how do I choose the correct ones that won't make me look frumpy? What shoes do you suggest? I plan on wearing the same suit both days of competition, but is it enough to change the shirt to change my look? Being a student and that I spent about $300 on the suit, I'd like to keep the rest of the outfit as cheap as possible … without looking cheap. What would you suggest for the welcome reception? Please help!
Wow, lots of questions. Good luck on the competition! In no particular order… (Pictured:  gavel, originally uploaded to Flickr by bloomsberries.)

a) What to wear with your suit? Our answer here primarily depends on who's going to be judging the mock trial competition. If it's a local judge, or a partner at a firm where you would like to work, then go conservative. Yes, nylons. Yes, closed-toe shoes. And honestly, we'd focus on propriety rather than frump because it's only a day or two. Go with the sheerest nylons you can find (readers, please feel free to shout out any suggestions) and the skinniest, highest heels (max: 3.5″) that you can walk in. Next, focus on fit — make sure that your suit isn't pulling anywhere — not across the shoulders, not across your hips; also make sure that it isn't several sizes too big for you. From there, you can either add a simple blouse to it with a collar, or perhaps a silk sweater tee (the likes of which Filene's and TJ Maxx should have tons of for about $15 each) — we'd suggest a light blue, but that's us. If you have any necklace resembling a set of pearls, wear that one.
b) As for what to wear to the reception, we'd ask your older friends who've competed in this competition what the welcome reception is like, who attends, and what to wear. If it's future employers and judges, you might want to put your A game on and wear a suit (or at least a very professional-looking dress). If it's on the more casual side, we might suggest a shrunken blazer with neat jeans. If money is really an issue, check H&M, TopShop, or teenage stores for a shrunken blazer-like look (be sure to buy a size big enough) — the quality won't be great, but so long as it's dark and sedated and doesn't have any immediate threads hanging or other construction issues, it should be fine for one or two engagements.
Readers, any advice?