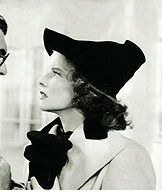 Reader E writes to us with a request for an accessories post on hats:
I would love to see a post on how to wear hats, not winter hats, but some of the more structured 50's-esque hats that seem to be everywhere. I imagine they aren't appropriate for a conservative office environment but where exactly are they okay to where? Only outside? I love these hats and would like to incorporate them into my wardrobe but I'm just not sure how.
To be honest, whenever I think of hats I think of one of my favorite movies, "Bringing Up Baby
," in which Kate Hepburn wears a lot of, um, interesting hats. Oh, and I think of that show "Blossom," also. But let's not let my mild dislike of hats (except for comic relief) stand in our way.
That said — some of my friends look great in hats, and celebrities do seem to wear them a lot.  The key to wearing them does seem to be integrating them into your outfit as an essential component.  This isn't going to be like a purse that you can wear with everything — you have to think about your outfit's proportions, and colors, and the general "statement" you hope to make with it (as well as whether the hat looks attractive on you given your facial features in general).  You may want to start with a cowboy hat or a fedora, as those seem to be the styles I see most — and then work your way up to something a bit more unique or with vintage appeal.  Another popular look these days is the headband-so-large-it-could-be-a-hat, similar to the peacock one below — that might also be a dip your toe into the waters of headwear.
| | | |
| --- | --- | --- |
| | | |
As for WHEN, I would limit wearing a hat to your off hours — I doubt I'd bring one anywhere near an office (but maybe that's just me?).  I seem to see them a lot when worn at parties and BBQs, or Sunday brunch kind of events — where you're still casual, but want your outfit to look deliberate.
Readers, what are your thoughts on hats? How do you wear them, or choose one that fits best with your style and face? Would you ever wear one anywhere near the office (not counting winter hats)?
(L-4)