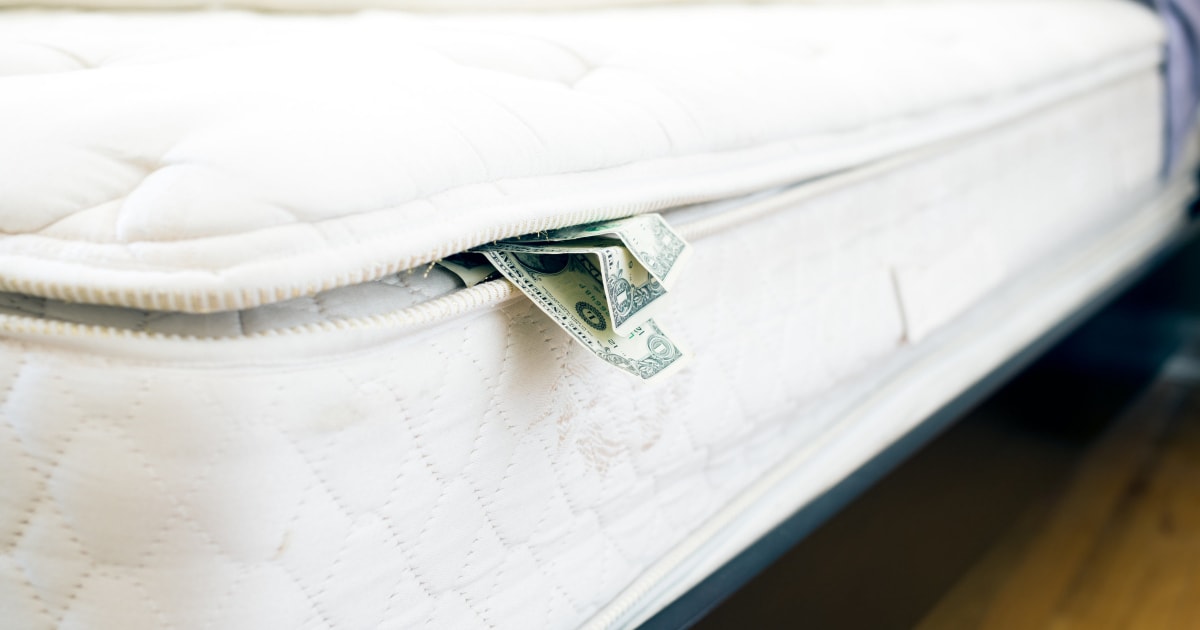 We've talked about how to automate your savings, what your money roadmap should look like (what to do and in what order), and — several times over the years! — we've talked about emergency funds. But it's been far too long, so let's discuss… readers, where do you keep your emergency fund right now? Do you move it around if you see a markedly better rate? I know there's been a lot of talk among the readers about how to prepare for a recession — are you doing anything differently with your emergency fund to prepare for that? (N.B. Now is probably not a great time to assume your emergency fund is safe in the market.)
Pictured above: I love this new croc-embossed wallet from Kate Spade — it's such a bright, happy pink!
To frame the discussion, as well as refresh you if you're unfamiliar — the suggestion I always see is to keep three to nine months of living expenses (mortgage, rent, loans, food, basic living needs), easily accessible in case you're laid off, fired, quit, or are otherwise unable to work — or if you have some other huge unexpected expense, like if your car breaks down or you get in an accident and have bills to pay.
Experts are divided, but I've always thought these were the best options for where to keep your emergency fund (with my personal preference being heavily weighted towards the first two):
Online-Only Savings Accounts like Ally. The big pro here is that the money is really fluid — you can get it in a day or two, it's not locked down at all. The con is that a) it will take a day or two to get your money, and b) the interest rate is also fluid. So, for example, in my own recent memory the interest rate they've offered has been anywhere from just over 1% to as high as 2.20% — at the moment it's 1.90%. It's still a lot better than the .5% (maybe?) that brick and mortar banks (like Chase Savings) would offer, but it's a bit annoying that it isn't locked in.
Certificates of Deposit or CDs, also offered at places like Ally. The pros and cons here are almost exactly opposite the online-only savings accounts — the big con is that you agree to a set term (anywhere from 12 months to 5 years) to keep your money locked away… so if you decide you want to buy a house midway through the term, you'll be paying a penalty fee if you try to take your money out. (If this is a concern, you should be looking exclusively at penalty-free CDs.) The big pro, though, is that your interest rate is locked in. Some people ladder CDs so that they come due at different times — so, for example, some money is locked away for 6 months at 1%, more money is locked away for 12 months for 1.5%, and even more money is locked away for 24 months for 2%. The problem I've always had with these is that to commit to having your money be unavailable I'd want a great interest rate, and I just haven't seen anything really worth the trouble of building and maintaining the ladder. (I'd love to hear from readers if you ARE comfortable with ladders, either with CDs or bonds!)
Money Market Savings Accounts – I had to check because I wasn't sure I had any — but in fact I do have one of my random little Ally accounts set up as a money market savings account (instead of an online savings account) — I knew I had one that wasn't a variable account. The interest rate at this one has been stuck at .9% for a while, but apparently if I kept more than $25,000 in the account the rate would go up to 1% (and the crowd goes ooooooo) — and I could write checks directly from the account. The cons are that you can get a much higher interest rate through the online savings accounts, and may have a minimum deposit and other requirements.
Money Market Funds – I usually think of these as the place your cash is held if you transfer it into an online brokerage like Vanguard or Schwab — useful if you need to get retirement money into your account before a certain date but don't have time to research (or are expecting a big market dip soon) — or if you want money available for other quick investments. When you put money in a MMF, you're actually buying shares in a fund that invests in cash — so in theory the rate will not drop below $1 a share. But: these are also variable accounts, meaning the percentage changes — in recent years they really have not been offering any good interest rates that I'm aware of. The big con with these money market funds is that while your money is available to invest at the drop of a hat, a) the money is not FDIC-insured, so in the unlikely event the bank goes bust, your money may go poof — and b) because they're variable accounts, it's slightly possible to lose money in them.
For my $.02, almost all of our emergency funds (I have one for the family and one for the business) are in Ally, where we're getting 1.90% (shoot, that was just up over 2%!) at the moment. That rate changes with the market, though, so I've been pleased to see it go up. A year or two ago I saw a few CD offers that seemed flexible and like a good rate to lock in, so we've also got a small portion in CDs that are earning between 2.10% and 2.75%.right now. (I've written before about how I'm a bit obsessive with Ally and use it to amortize for a ton of different savings goals — it's nice to see the interest accrue.) Of course, none of this compares to the old days (let's say 1998-2008), when my memory is that my money market fund in Schwab made almost 7%. (That said, I'm going to have to look to confirm that — I remember it being a money market fund, but I don't remember it taking a big dip like my investment accounts did during the last recession. Hmmn.)
Readers, how about you — where are you keeping your emergency fund money in 2019?
Further Reading:
Money Advice the Experts Don't Agree On: Emergency Funds [Lifehacker]
Best Places to Keep Your Emergency Fund [The Balance]
Stock photo via Deposit Photos / Boyrcr420.