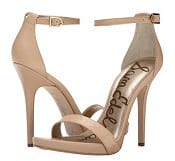 Something on your mind? Chat about it here.
This shoe is everywhere this season. I think it's sexy and fun, and I'm always surprised when such a classic style "comes back" because it's hard to believe it wasn't always in. Anyhoo: what is also surprising is that I cannot, despite my best efforts, find a kitten heel version of this. There are plenty of 4″ versions (here, here, here; 3.5," 3.5," 4.5″), as well as a few 3″ versions, but all of the lower heels (even 2.75!) have wider straps or more straps (T-strap, etc). (Although: M.Gemi has a flat version.)  The pictured shoe at least seems to have a lot of positive reviews — and at $130, it's among the more affordable versions. It's 4.75″ high (yaaa!) with a .75″ platform.  Sam Edelman Eleanor
Happy weekend, ladies!