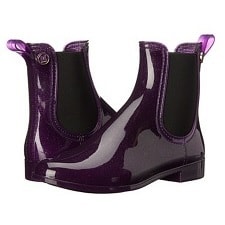 Something on your mind? Chat about it here.
OK. I may be insane, but look how pretty! I love the unexpected sparkle (how great for a dreary day!), the traditional look of a Chelsea boot, and the practicality of it. In general if you're spending this much on rain boots I'd just advise you to get Hunter boots, but, WELL — these sparkly rain boots from Missoni may just have to be in the mix. (They also have some solid-colored boots without the elastic gore, in case you dislike that feature.) The pictured boots are $145. M Missoni Sparkly Rain Boot
Here's a lower-priced option (but be warned, they are super-sparkly!).