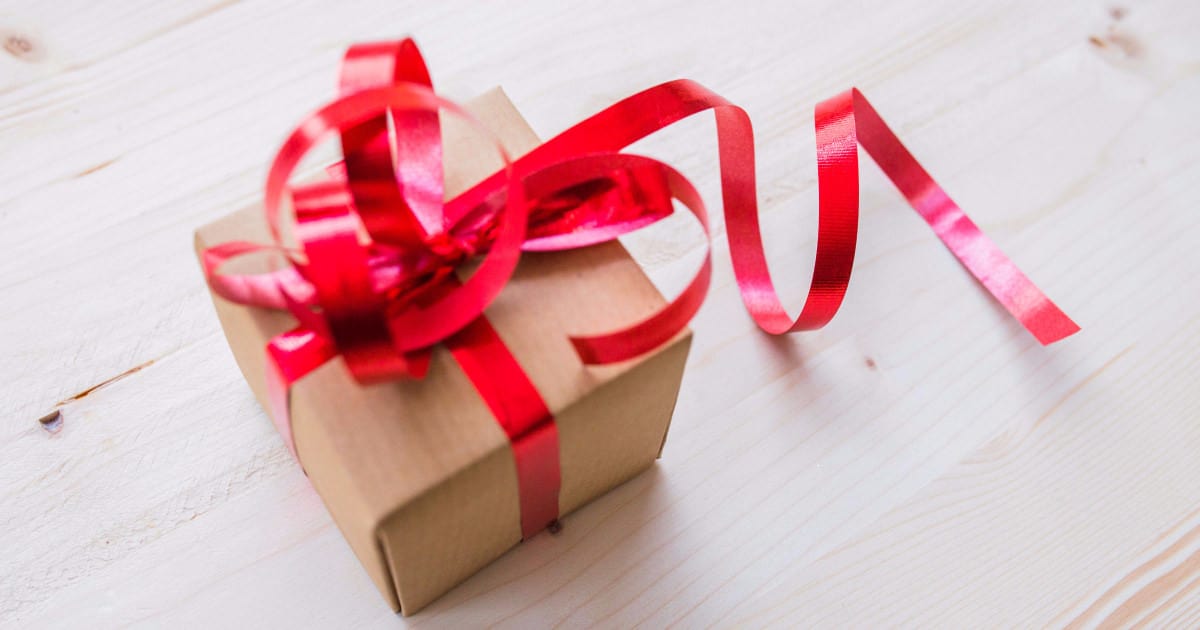 Shopping on Etsy for gifts is a lot of fun, but it can be overwhelming (a search for "silver earrings," for example, brings up more than 1,000,000 results), so today we've rounded up six Etsy shops for unique holiday gifts. We're featuring a few intriguing items from each store and we've included details on shipping — because somehow, it's already November. (Here are the Etsy editors' picks in their Holiday Gift Guide.)
Psst: We've also shared seven of the best shops on Etsy for workwear.
These six Etsy shops are good bets for holiday gifts — even for those hard-to-buy-for people you know. Readers, which are your favorite Etsy shops, whether for gifts for coworkers, friends, or family?
This post contains affiliate links and Corporette® may earn commissions for purchases made through links in this post. For more details see here. Thank you so much for your support!
What to Get for the Pop Culture Fanatic In Your Life: CircaCeramics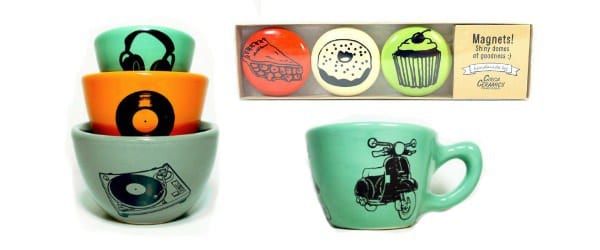 The DJ's Urban Set, $70 / Sweet Treats Magnet Set, $24 / Vespa Scooter Print Mug, $35
Located in: Chicago
Shop details: CircaCeramics' tagline is "Pop cultured practical pottery handmade in Chicago," and that includes a ton of fun designs for anyone's tastes, ranging from a mug with Vespa on it ($35); a set of three bowls ($70) decorated with headphones, a record, and a turntable; and a set of three magnets ($24) with a cupcake, doughnut, and piece of cherry pie. You'll find animals, cameras, robots, bikes, and much more. The items are food-, dishwasher-, and microwave-safe (and oven-safe up to 350°) and the shop has had thousands of sales and thousands of good reviews.
Get it in time for the holidays: Some items are ready to ship, while others may ship three weeks after they're purchased.
What to Get for That Sentimental Loved One: GracePersonalized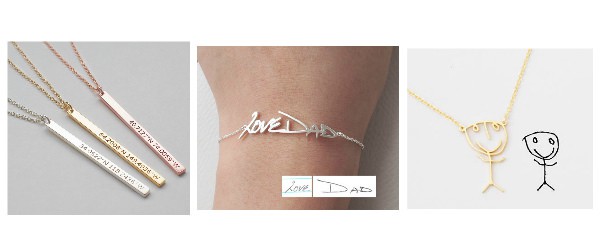 Skinny Coordinates Bar Necklace, $28+ / Actual Handwriting Bracelet, $33 / Children Artwork Necklace, $39+
Located in: Carrollton, TX
Shop details: GracePersonalized goes beyond the typical initial necklaces and birthstone jewelry to creative personalized items with fingerprints, loved ones' handwriting, kids' drawings, and latitude/longitude coordinates — on necklaces, rings, bracelets, keychains, and more. The shop has had thousands of sales and thousands of positive reviews. One example of their offerings is the Skinny Coordinates Bar Necklace, which has three options — silver, 18K gold filled, and rose gold filled — and includes a chain (16″, 18″, or 20″ inches). It's $28–$36. GracePersonalized currently has a sale going on.
Get it in time for the holidays: Production time is 7–10 days (10–15 for fingerprint orders) and shipping is via First Class, Priority, and Priority Express.
What to Get For The Nap Aficionado: SewnNatural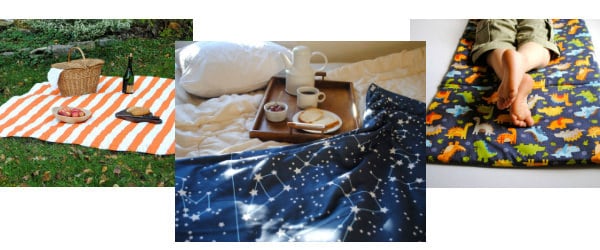 Picnic Blanket, $150+ / Organic Throw Blanket, $140+ / Toddler Nap Mat, $119
Located in: Ottawa, Canada
Shop details: SewnNatural was once an Etsy Featured Seller and has gotten attention from the likes of HGTV and Apartment Therapy. They make ethically-produced and eco-friendly blankets of all types (some made from Marimekko fabrics), cloth napkins, toys, toddler nap mats, kids' clothing, and more. The shop has thousands of sales and more than 1,000 reviews. A couple of interesting items: a 100% organic throw blanket (54″ x 54″) covered with stars and constellations ($140) and a 3-layer, orange-and-white striped picnic blanket (59″ x 62″) that can be rolled up, buttoned, and carried with a strap ($150).
Get it in time for the holidays: Many items are made to order; a few are ready to ship now. Ask about a shipping estimate before ordering. Expedited shipping is available.
What to Get For Your Non-Frilly Friend: ZenokLeather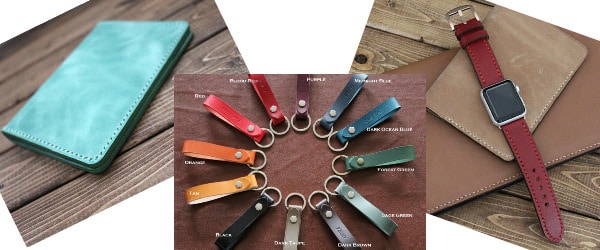 Hand-Stitched Passport Cover, $65 / Personalized Keychain, $19 / Apple Watch Strap, $85
Located in: Chilliwack, Canada
Shop details: Recommended by a reader (for a personalized leather keychain she received as a gift), ZenokLeather has tons of handmade leather goods, including wallets, phone wallets (both iPhone and Android), Apple Watch bands, journal covers (for Moleskine, etc.), passport covers, business card and credit card holders, keychains, glasses cases, and more, in simple designs and lots of color choices (including stitching). The shop has 7,000+ sales and 1,500+ reviews. A couple of items worth checking out: a passport cover with a boarding pass pocket and two card slots ($65) and a dark red leather Apple Watch strap ($85). Items can be personalized or stamped
Get it in time for the holidays: ZenokLeather will ship your items 3–5 business days after receiving payment, and shipping takes 7–10 business days.
What to Get For the Animal Lover In Your Life: tiny confessions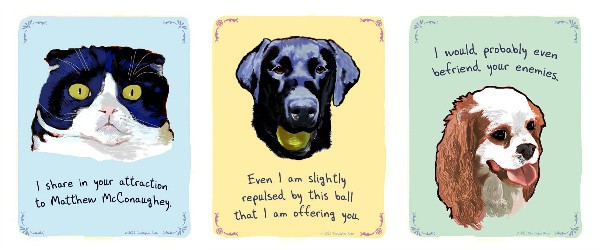 Scottish Fold Cat Print, $20 / Black Lab Print, $20 / King Charles Print, $20
Located in: New York
Shop details: tiny confessions sells 5″ x 7″ and 8″ x 10″ prints of paintings that show the "secret thoughts and deepest admissions" of various cats and dogs (and also of Darth Vader, a zombie, Shakespeare, and others). The shop has hundreds of positive reviews and has had more than 2,000+ sales. A couple of examples of tiny confessions' fun prints are a black Lab who says, "Even I am slightly repulsed by this ball that I am offering you," and a cat who admits, "I share in your attraction to Matthew McConaughey" ($20 each).
Get it in time for the holidays: Prints are shipped via First Class 5–7 business days after the shop receives your payment.
What to Get For That Person Who Loves Their City: theUncommonGreen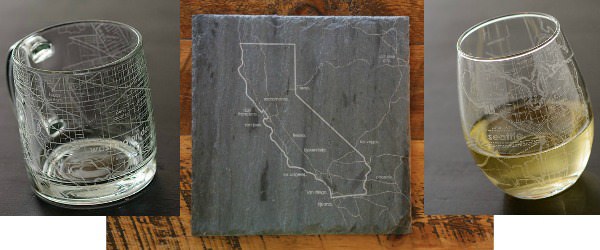 Washington, D.C., Coffee Mug, $16 / California Slate Serving Board, $65 / Seattle Stemless Wine Glass, $15
Located in: Boston
Shop details: theUncommonGreen's tagline is "exceptional goods with a conscience" — the company uses eco-friendly materials and practices and creates its products by working with local artisans and small businesses. They've had 25,000+ orders with 3,000+ reviews. theUncommonGreen etches city maps, state maps, marathon maps, and geographic features (e.g., Mt. Vesuvius) on wine glasses, pint glasses, glass mugs, slate serving boards, wooden iPhone cases, and other items. Their SMART Barware collection includes glassware etched with everything from constellations to the Helvetica font to the opening lines of Pride and Prejudice.
Get it in time for the holidays: Orders ship within 1–2 business days via FedEx or USPS, and delivery is usually in 4–8 business days. Expedited shipping is also available. Use code FREESHIP50 to get free shipping on orders over $50.
What are your favorite Etsy shops for holiday shopping?
All collage images are from Etsy; stock photo at top (brown box/red ribbon) is via Stencil.