With shoes and bags it kind of feels like everything is having a moment — there are skinny heels and thick heels, round toes and pointy toes, ankle booties, shooties, knee-high boots, OTK boots, and slouchy mid-calf boots. Which are your favorite pieces to wear to work right now?
(Also — I neglected to round up the reader favorites in the previous post, so I did it here. Longtime readers of the blog will definitely recognize these pieces because they're almost always on our most-bought lists of the month / year / sale.)
As with our other posts, note that everything available in plus sizes has an (*) next to it, and everything available in neutral colors has a (+) next to it.
See all of our picks for the 2022 Nordstrom Anniversary Sale here!
Pictured at top: quilted bag / pink earrings / gold hoop earrings with blue detail / beige shoulder bag / block heel / heeled mule
(There's a ton of beautiful diamonds in the sale but outside of the diamonds, there were only a few jewelry pieces that stood out to me as being great for work; some I'll feature in Coffee Breaks over the next few days… the two that I really liked are in the photo above!)
My Favorite Shoes for Work in the 2022 Nordstrom Anniversary Sale
There are a ton of cute shoes for work in the NAS, and some VERY.INTERESTING.TRENDS. that we'll hopefully discuss later in the week — soooo many white boots. And Western-inspired boots. And shooties! And dark brown shoes and boots! And — it's not a new trend but I don't think we've ever discussed how to wear lug-sole loafers and boots to work. Peeptoes are even making an appearance again! (Also: if you have come out of the past two years on the hunt for 3.5″-4″ stiletto heels… there are a TON of retailers who've got you, boo.)
My very favorite shoes from the sale are pictured below — they're from brands that readers know and love for comfort, and they tend to stick to the more classic side for work-related footwear.
(Can I just say that I hate doing shoe collages? This one isn't pretty, but hopefully it's clear…)
Pictured above: one / two / three / four / five / six / seven / eight (not pictured but also: this weatherproof heel)
Work Bags in the 2022 NSale
There are also a lot of cute bags! This collage doesn't do a great job showing their relative size so I've tried to note in the description whether I'd call it S, M, or L.
Top row: green backpack+ (M) / blue shoulder bag+ (M) / green crossbody+ (S) / black crossbody (M)
Bottom row: gingham tote (L) / quilted tote (L) / tan tote (L) / navy striped tote (L-XL)
Reader Favorites in the 2022 Nordstrom Anniversary Sale
Some of these have been around for years but they continue to be some of the most-bought items in the NAS… not pictured below: these pajamas, these faux leather leggings, and Bombas!
Above: long cardigan*+ (I have two of these) / navy cardigan*+ (super soft, 6 colors, I also have and love) / white blouse (sleeves too) / super soft long cardigan*+ / drapey blazer+ (5 colors)
And some of the bottoms that are perennial favorites at Nordstrom…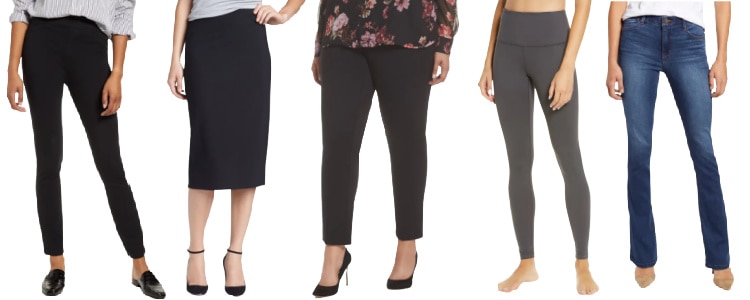 Reader favorites above: back seam pants* / midi skirt / ponte pant* / leggings* / $50 jeans!*
Pictured above, some of the reader favorites (and TOP sellers) every year for the NAS: (1st row, L-R): 1) pink+ (HUGE favorite) 2) black super comfy wireless bra 3) teal bralette+ 4) purple+ // (2d row, L-R) 5) pink brief+ 6) beige thong+ (HUGE favorite, so is this brand's) 7) teal thong+ 8) purple cotton brief+.