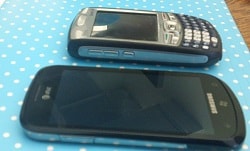 I am super excited to be partnering with Windows Phone!  They were good enough to give five bloggers a new phone for Fashion Week — and I'm one of them!  I met with the crew last night to play with my new Samsung Focus.  It looks like it's going to be a great way to keep up with e-mail, blogging, and snapping pictures (hello, 5.1 megapixel camera) during Fashion Week (and wow, is going to be an improvement over my current phone, a Treo.  Yes, I'm a dinosaur on the phone market — that's what I get for being loyal to Sprint!!)  (Pictured:  my new Windows Phone next to my ginormous Treo. Photo sadly not taken with my Windows Phone, hence the blurriness.)
This will actually be my first time ever at Fashion Week, so I'm also excited to covering the shows for you guys.  If you're not already, please follow Corporette on Twitter to keep up with the fun — there will be pictures, tweets, and more.
I'm not the only one who gets to enjoy the fun, though — I'll also be giving away a Windows Phone to one lucky Corporette reader as well! More details here, and I'll have more info in the days to come as well.
The other bloggers taking part in the Windows Phone fun are the ladies behind Gala Darling, What I Wore, The Curvy Fashionista, and FashionPulseDaily — so I'm really flattered to be included in the mix!
Full disclosure:  Windows Phone is a sponsor of Corporette.