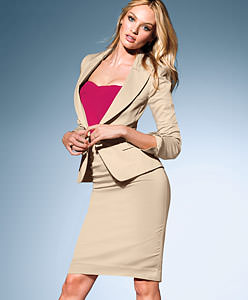 How do you deal with back-handed "compliments" at the office? Reader B wonders…
I am a 30 year old lawyer working in Washington, DC. My late 20's/early 30's professional female friends and I have experienced a strange and disconcerting dynamic amongst women in the workplace: getting negative comments from other women for being smartly/well- dressed. These outfits, I believe, would objectively be considered professional, age-appropriate, and well-fitting: tailored suits in feminine cuts, pencil skirts to the knee, or pumps with a modest heel. They would certainly be similar to those depicted on the Corporette website. The comments often take the form of backhanded compliments, such as, "That shirt makes you look soooooo thin." They may also be cautionary, like "Wow, you had better be careful not to hurt yourself in those heels". This feedback comes from women at a similar professional level and more senior employees. It most often comes from women whom are a generation older and seem to be, at times, more about our size and age than what we are wearing. It also seems to be more of an issue in government and non-profit environments, as we haven't noticed it to be a problem in the private sector. How should we respond to this type of feedback? At what point should we give in to workplace pressure to dress in a more bland way versus continuing to wear clothing that makes us feel sophisticated and professional?
This issue comes up a lot, and as your friendly blogger I see both sides of it: the younger women wondering why these older women are giving them these back-handed compliments, and the older women asking me how in the world they tell someone they're dressed wildly inappropriate for the office in a casual way. I'm curious to hear what readers think about this.
A few thoughts:
I think you always have to interpret what they're saying as constructive advice for how to dress for YOUR office. Remember, ladies, just because something is featured on Corporette or in another "wear it to work" source doesn't mean it's appropriate for YOUR office, because every office has its own peculiarities. These older women are — hopefully — trying to convey to you that something about your clothes is inappropriate for the office. The flip side: just because they're saying these things doesn't mean that they're right, either — they could be jealous, they could feel threatened by you, etc, etc. But every time I've been on the receiving end of these kinds of compliments (and trust me, I have) I've studied what I was wearing, studied my office, and tried to make an educated, objective decision whether to stop wearing whatever was so offensive. These would be my interpretations of some possible "compliments":

"Don't hurt yourself in those heels" = "You look like you're having a problem walking in those shoes, which is inappropriate for the office."
"Oooh, cute dress — do you have a date tonight?" = "You're dressed for your date, not your job, which is inappropriate."
"You look sooo thin in that shirt" = "Wow, that is tight! Should I really be able to count your ribs?"
"Gee, I never would have thought to wear a corset top with a suit!" = "Why are you wearing a corset top with your suit?" (Pictured: Victoria's Secret.)

In the instant it's said, this is your response: a cheerful "Thanks!," possibly followed by a compliment about her outfit or, should you choose, a note about your own attire. "I was inspired by Boss X's great outfit on Friday," or "I feel like I could run a mile in these heels!" or something positive. I wouldn't talk about it more than that unless you're in a formal setting (HR office).
Here are some guesses as for why this issue comes up in government and non-profit offices but not the private sector: a) there are probably more older women in general there since there is often a promise of a better work/life juggle in those environments, b) they tend to be smaller offices with their own "personalities," and c) they probably don't have a separate HR department or other formal ways of telling you that you're dressed inappropriately. But, like I said, those are just my guesses…
Check out our Wardrobe Essentials for Work — all the reader favorites!
Readers, how do you deal with back-handed compliments? Also, I'm really curious — would you rather someone say directly "that dress seems a bit inappropriate for the office," rather than paying you some false "compliment"? For those of you who have tried to tell someone that she was dressed inappropriately, how did you do it (and what was her response)?