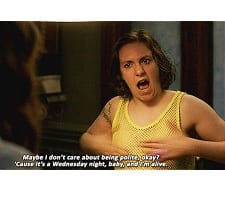 2018 Update: We still stand by this advice for going-out clothes and young professionals, but you may also want to check out the great reader discussion on general going-out clothes after age 25. 
Once you get to grad school, can you stick with your "going out" style from college, or is it time to make some changes? Reader C wonders how to dress for a night out on the town when she's out with new friends from grad school…
I have a strange request/question. I've begun learning all about clothing for work, interviews, etc., and now know the difference between business casual and chic casual. My problem is that during my undergrad, "going out" almost certainly meant tight shirts, tight pants or leggings, and high heels, as well as blow-out hair and smokey eye makeup. Jackets were a never, and cleavage was a must.

I was recently invited to go out with from friends from my new school, and pretty much realized that I don't know how to dress like a grown woman when I'm doing something super casual with friends, like going out for a few beers or even out dancing. I still want to look the part in some ways (these are, after all, my future colleagues — I don't want to be remembered as "cleavage girl"), but still dress to have fun.

Please teach me to be a respectable adult, even while I'm supposed to be out having fun.
Great question, and I'm torn between a few thoughts. First: you're in school; if you're going out with friends it shouldn't matter too much. On the flip side, I think it can make an impact on how people remember you, and the bigger the dichotomy between your work or student persona and your "weekend persona," the more people will remember it.