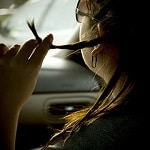 Reader E has a question about bad habits at the office, from nail biting, cuticle picking, hair twirling, and more…
I must not be the only nail biter/ cuticle picker. What do all the over-eaters, hair twirlers, nail-biters do? I think it's incredibly unprofessional to be nibbling at my hands all day….
Great question, E! I think there are two parts to this question: defining what is a "bad habit" for office purposes, and then fixing it. There are a lot of problem-specific fixes (for example, for nail biting there are clear nail polishes designed to make your nails taste bad
). (Pictured:  Untitled, originally uploaded to Flickr by Rachel A.K..) But for my $.02, these are my two thoughts re: bad habits at the office:
a) What is a bad habit, as far as office behavior goes? One way to look at it is: it's a personal trait that people notice and remember about you — so much that it may overshadow your achievements (as in, "Oh, is she the nail biter?  Brunette?  Clerked for Alito?").  For example: gum snapping, nail biting, hair twirling. Another way to look at it is: it's a personal habit that derails your work in some way. For example: drug/alcohol use, online addiction (whether it's to chat boards, sample sale sites, or more), et cetera.  Overeating, mentioned by reader E, is certainly a bad habit, but it would probably venture more into OCD territory before it affected your work habits.
b) How do you overcome a bad habit? The first step is recognizing that it's a bad habit. A lot of gum-snappers out there may not realize that people in the office know them by that habit. Similarly, years ago I spent a month or so absolutely obsessed about an online celebrity site that probably had 200-300 posts a day — I had to stop that one cold turkey. (I've also had to go cold turkey on sites that had 30+ posts a day too — Gawker, Jezebel, I'm looking at you! — and it's one of the big reasons that I don't ever see this blog having more than 3-5 posts a day.)  After that, I think that you can Google your problem and find those problem-specific solutions.
Readers, what do you think are YOUR personal bad habits (and what have you done to fix them)?  What bad habits upset you about your coworkers?  Does your definition of "bad habit" differ from mine in the office context?  Did you have any rude awakening to your bad habit?