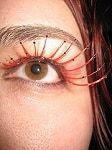 2018 Update: We still think this is an awesome discussion of false eyelashes — you may also want to check out our more recent discussions of false eyelashes for the office, including my magnetic lashes review.
Today's Beauty Wednesday was reader K's request…
I have a question that might work for a Beauty Wednesday piece. Does anyone have experience with false eyelashes? I'm considering them because my lashes are tiny and sparse. I'm afraid to try them, though, because I'm not the most coordinated person, and putting glue near my eyes scares me a bit. Would love to hear about others' experiences, including any recommendations for brands.
(Pictured:  False eyelashes, originally uploaded to Flickr by randompinkness.) We have always heard that the trick to wearing falsies in a low-key way (unlike our illustration) is to either use only the very small "individual" lashes, or to cut the bigger strips of lashes so you're only applying about a quarter of an inch of them to the outside rim of your lashes. In terms of brands, we have heard such great things about Duo glue that it's the only one we've tested (Duo Eyelash Adhesive, Dark Tone
, $5.99 at Drugstore.com), but we've experimented with lashes, buying both inexpensive and fancy ones (e.g., the $3.49 Ardell DuraLash Naturals Individual Lashes, Medium Black
from Drugstore and the $15 MAKE UP FOR EVER Eyelashes – Individual
from Sephora), and we've even bought contraptions
that are supposed to make applying the lashes easier. Still: we've just never had the time or energy to invest in perfecting the skill, and our batting average isn't great:  we've self-applied them about once (maaaaaybe twice) and attempted to apply them about 10 times.
So, readers — this question is largely for you. How do you fare with false eyelashes? Any tips? And, a question for debate:  are false eyelashes ever a work-acceptable look, or are they automatically the stuff of nights out?