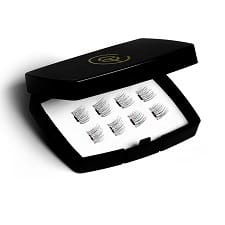 I have NEVER been able to do false eyelashes, and taking the time to go get lash extensions is just not in the cards for me from a time/money perspective. (I am also mascara challenged.) So this is my magnetic lashes review (specifically, One Two Cosmetics' Magnetic Lashes)
(2020 update – they're now available at HSN too!).
This post contains affiliate links and Corporette® may earn commissions for purchases made through links in this post. For more details see here. Thank you so much for your support!
November 2021 update: the big Sephora sale just started! Depending on whether you're Insider, VIB or Rouge, you can take 10% off (started 11/11/21), 15% off, or 20% off!
I'm not sure if it's from the Jenna Marbles video (NSFW) on what your eyelashes mean (she talks about "natural" fake lashes around the 4:40 mark) or this Buzzfeed Ladylike review in general of false eyelashes, but for some reason I keep thinking this is something I need to spend some time on: perfecting my fake eyelash game.
The Buzzfeed crew said they had used Esqido lashes (affiliate link), which are around $32 at Amazon, but I balked at spending that much on yet another failed attempt to "learn" eyelashes when it sounded like every single attempt I'd ever made to learn eyelashes.
So when I heard about magnetic lashes from One Two Lash, even though they were $60, it made more sense to me — they're reusable, come with two applications, and there's no glue involved, which was always where things went wonky for me in the past. (The case comes with 8 lashes, as pictured — two go on each eye, one on top and one on bottom. The other four lashes are spares.) I finally pulled the trigger on magnetic lashes a few weeks ago, and I'm giving them a definite thumbs-up, with some caveats.
Psst: New here? You may also want to check out our GREAT discussion with the readers about beauty empties — the products we actually finish all the way and then buy again — as well as some of our classic resources, like The Corporette Guide to Comfortable Heels, or our brand new work outfit challenge with four weeks' worth of work outfit ideas!
This is what my prior attempts at false eyelashes were like: I would do my makeup, then try to apply false eyelashes. Perhaps ONE eye would stick, but the other eye … wouldn't. I would get glue all over my second eye while I tried to figure how to "match" the first eye. Thirty minutes later, frustrated and annoyed, I would remove my eye makeup, start over, and go out with regular mascara and no fake eyelashes.
My experience with magnetic lashes has been a WORLD apart — after playing around with them for about 30 minutes I was consistently getting them on my lashes, and they actually looked good. I'm still perfecting my touch, but some notes:
I got the "original" lash, and it's dramatic — personally I think it would be way too much for a regular workday (although some people are totally addicted on a daily basis). One Two Cosmetics also sells options called "accent" and "bold" — if you're looking for something to wear every day for work I'd get the "accent ones" to start. (I'm also considering cutting my "original" lashes, but this seems drastic.)
I've found they're better if I leave mascara out of the equation, and curl my eyelashes first.
I worried about "tiny magnets" — they're not so terribly small, and I can't imagine them coming off and my not knowing.
They really are reusable — I've had them on and off probably a 100 times and they're very easy to take on and off, and the lashes seem great.
In general, I'm really happy with my purchase.
Readers, have you tried One Two Cosmetics or other magnetic lashes? Care to share a magnetic lashes review with us?